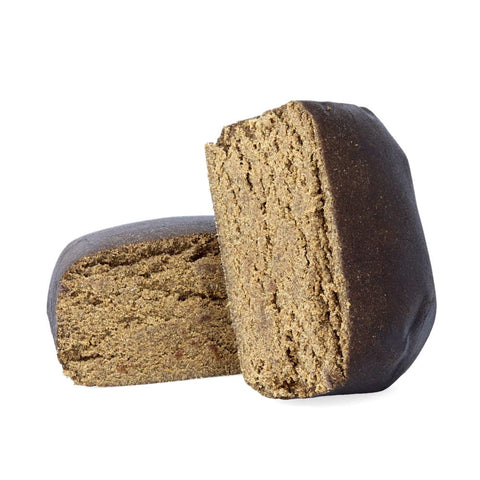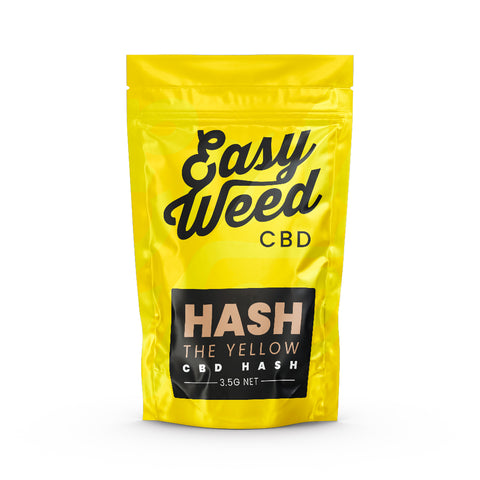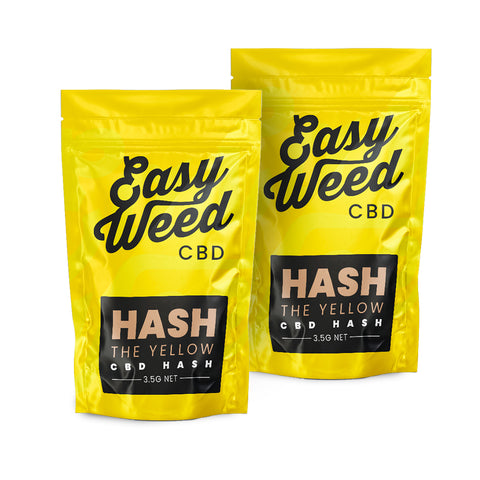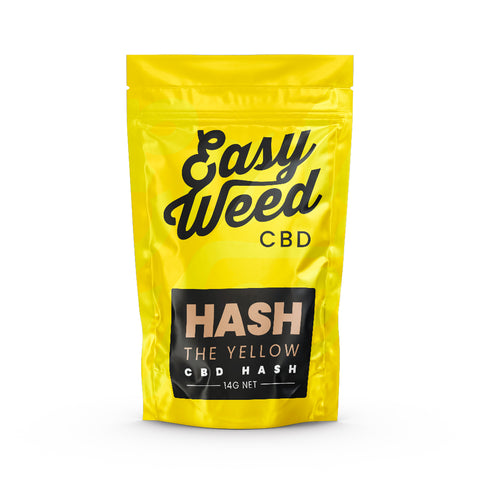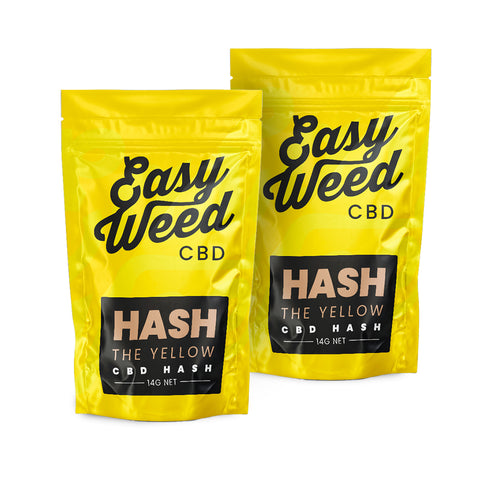 Easy Weed
The Yellow | CBD Hash | Easy Weed | 19% CBD
CBD 19%
In the category of premium CBD hash, Yellow with 19% CBD is considered a reference. This CBD hash comes straight from Switzerland! It is produced on an organic agricultural farm. This artisanal CBD hash is made from organic hemp plant matter, from one of the best CBD varieties. Well-balanced, Yellow CBD offers fruity aromas with sour and slightly spicy notes.
Characteristics
19%
Characteristics
| | |
| --- | --- |
| CBD level | 19% |
| THC level | <0.2% Δ9 -THC% |
| Cannabinoids | CBDa | CBD | |
| Quantity | 3.5g to 28g (2x 14g) |
| Storage | Store in cool dry cupboard, away from direct sunlight. |
HempHash Presents: Easy Weed's Yellow CBD Hash
Yellow: the artisanal, high-end and 100% legal CBD hash! This CBD hash is characterised by a foamy and sandy appearance. Its beautiful beige-yellow colour comes from the trichomes present in the organic matter of the plant. Easy Weed guarantees the origin and traceability of all its products. Discover this artisanal, high-end and 100% legal product!
Yellow CBD Hash: an ancestral manufacturing technique
Yellow CBD Hash comes exclusively from 100% legal and high-quality organic hemp plant matter. The plant matter is hand-picked and then passed through a rather wide sieve (150 microns). The sieving speed is very slow, so as to allow the pollen to pass through without damaging it and to retain the plant unwanted matter such as vegetable parts (branches, leaves, stems, etc.). To preserve all nutritional qualities, Yellow CBD has been sieved very slowly at a negative temperature, then pressed by hand at cold to turn into a solid and compact block. This technique ensures the preservation of its enveloping flavours. Yellow CBD is recognized by its sandy and foamy texture. This cheap hash shares many similarities with the famous Skunk variety, very well known for its unique taste.
Is CBD Hash strong?
The concentration of CBD in the hash doesn't necessarily determine the strength of the hash, as commonly perceived. While CBD concentration in hash can affect its strength and often ranges from 10% to 40%, strength is commonly associated with the combination of CBD with other non-controlled & naturally occurring component parts of the hemp plant such as terpenes and flavonoids. This is why full-spectrum CBD products are favoured over CBD isolate products.
What percentage of CBD is in Yellow CBD Hash?
The amount of CBD in the Filtered CBD hash may vary depending on the source, but it is typically around 19%. Some Filtered CBD hash may contain more or less CBD, so it is important to check the label or ask the vendor for more information. As a reference, our Filtered CBD hash has 19% CBD.
Can you smoke CBD Hash in the UK?
No, from a legal perspective, absolutely not. While CBD hash is perfectly safe to vape or combust and is produced with that very purpose in mind, in the UK, all CBD hash must be retailed as not intended to heat or consume to lawfully meet the criteria of an exempted product and is sold for research purposes only.
Is CBD hash legal in the UK?
Our products are certified to contain <0.2% Δ9-THC & they are also certified to contain no more than the legal limit of THC content under existing UK laws and regulations.
It's important to remain conscious that while in Europe or the EU, CBD hash is widely available for smoking and vaping purposes and in general it is produced with that very purpose in mind, in the UK all CBD hash must be retailed as not intended to heat or consume and is strictly sold for novelty, souvenir or educational purposes only, to lawfully meet the criteria of an exempted product. By shopping with us, you agree not to smoke, vape or consume your CBD hash. At the same time, it is generally accepted that CBD products with less than 0.2% Δ9-THC are safe, non-psychoactive and lawful in the UK.
How to store CBD Yellow Hashish?
It is important to store your CBD hash in an airtight container to prevent it from drying out.

It's best to store your CBD hash in a dry and dark place.

Avoid humid areas, exposure to light and temperature swings.

Optimal storage temperature: between 15 and 20°C.
Batch Number: LJ-3.5G