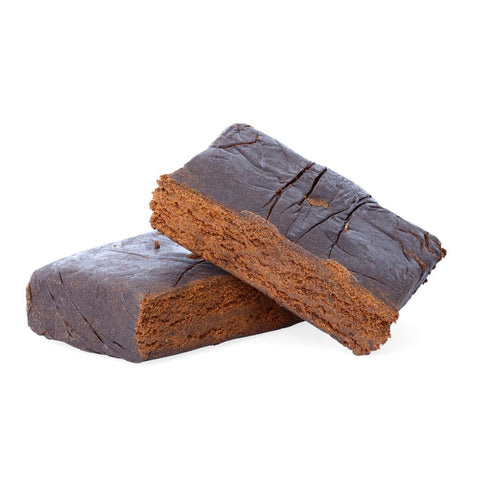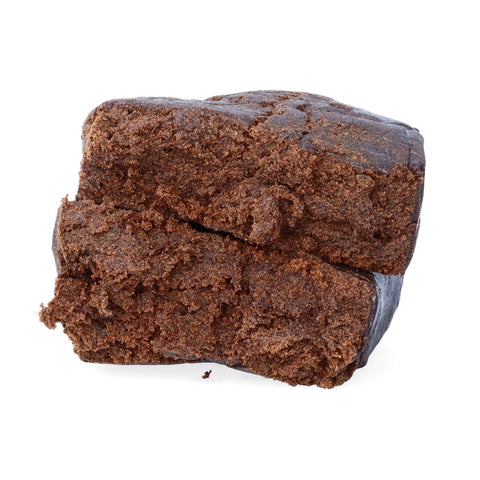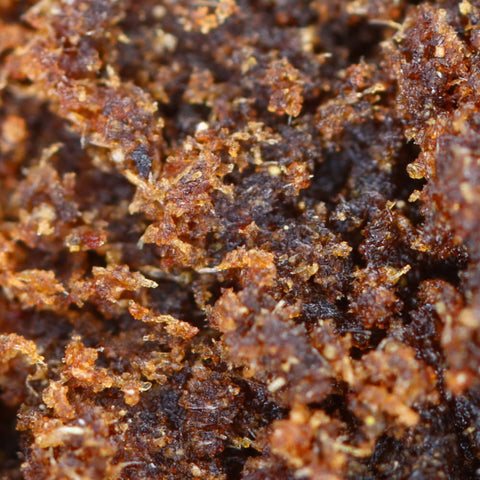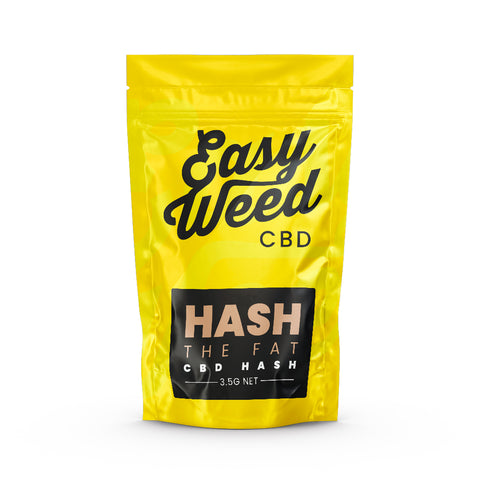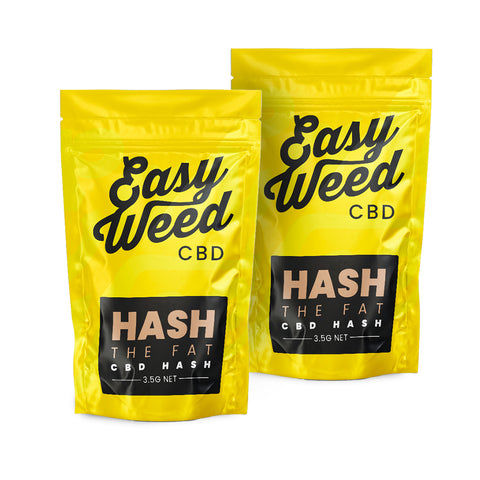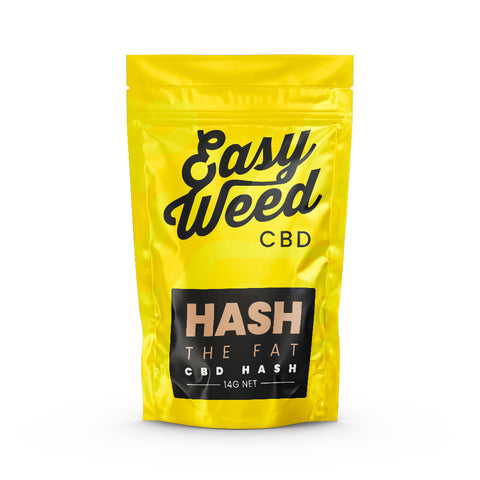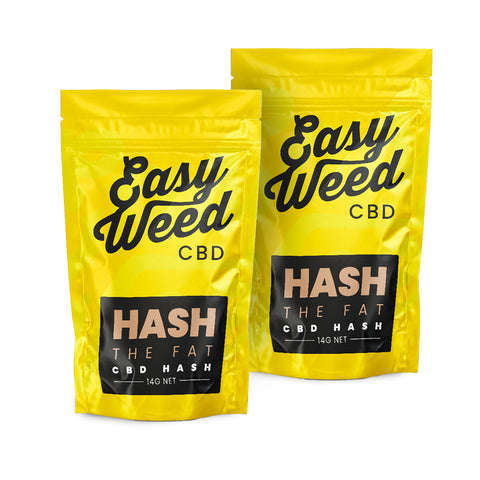 Easy Weed
The Fat | CBD Hash | Easy Weed | 24% CBD
CBD 24%
Discover Easy Weed's Unique Quality: Fat CBD Hash!
The Fat CBD Hash, a natural wonder with a 24% verified CBD content, is proudly offered by EASY WEED. This hash, which is made with care from organic hemp, is very excellent. Experience the difference now!
Characteristics
24%
Characteristics
| | |
| --- | --- |
| CBD level | 24% |
| THC level | <0.2% Δ9 -THC% |
| Cannabinoids | CBDa | CBD | CBG | |
| Quantity | 3.5g to 28g (2x 14g) |
| Storage | Store in cool dry cupboard, away from direct sunlight. |
Who is Easy Weed?
Easy Weed is a French brand and excellent budget range of CBD hash which has been produced using organic methods.
Easy Weed's Fat CBD Hash: Artisanal, Premium, and 100% Legal Hash!
The CBD Hash by Easy Weed with 19.9% CBD is the result of extracting organic hemp plant matter from naturally produced cultivars. You can be confident you're purchasing a pure product of high quality with certified CBD content. Easy Weed CBD Hash is made by separating trichomes from dried organic CBD flower remnants.
These separated trichomes form a fine powder, commonly known as "kief," which is then cold pressed into a premium hash block. This CBD hash is produced on an organic farm. Discover this artisanal, premium, and 100% legal product!
Easy Weed CBD Hash: Swiss Quality at the Guaranteed Lowest Web Price With its pronounced resinous taste and user-friendly texture, Easy Weed CBD Hash stands out with earthy and natural notes. This hash is characterised by a foamy, sandy, and "fatty" (greasy) appearance, from which it gets its name. Its beautiful beige-yellow colour comes from the pollen found in the plant's floral parts. Moreover, all Easy Weed products come from farms which cultivate using organic methods, ensuring your health is protected.
Is CBD Hash Legal in the UK?
Our products are certified to contain <0.2% Δ9-THC & they are also certified to contain no more than the legal limit of THC content under existing UK laws and regulations.
It's important to remain conscious that while in Europe or the EU, CBD hash is widely available for smoking and vaping purposes and in general it is produced with that very purpose in mind, in the UK all CBD hash must be retailed as not intended to heat or consume and is strictly sold for novelty, souvenir or educational purposes only, to lawfully meet the criteria of an exempted product. By shopping with us, you agree not to smoke, vape or consume your CBD hash. At the same time, it is generally accepted that CBD products with less than 0.2% Δ9-THC are safe, non-psychoactive and lawful in the UK.
Is CBD Hash strong?
The concentration of CBD in the hash doesn't necessarily determine the strength of the hash, as commonly perceived. While CBD concentration in hash can affect its strength and often ranges from 10% to 40%, strength is commonly associated with the combination of CBD with other non-controlled & naturally occurring component parts of the hemp plant such as terpenes and flavonoids. This is why full-spectrum CBD products are favoured over CBD isolate products.
What is the CBD level in Fat CBD hash?
The amount of CBD in Fat CBD hash may vary depending on the source, but it is typically around 10%. Some Fat CBD hash may contain more or less CBD, so it is important to check the label or ask the vendor for more information. As a reference, our Fat CBD hash has 24% CBD.
Is Fat CBD Hash, Black Hash?
Traditionally speaking, black hash is a product that is produced using cannabis resin and by rubbing it together in human hands. While this is favoured by many in the cannabis world, CBD hash is produced without the use of cannabis resin, and instead by using organic hemp plant matter which has been cultivated under government licence which is then micron filtered and CO2 cold extracted to remove any traces of THC, whilst maintaining all of the other essential and naturally occurring hemp compounds. CBD hash is created with high-tech machinery, closest to the temperature of the natural botanical material and without the use of human hands. Remember, CBD hash is not intended to heat or consume, has no psychoactive effects and is not for any persons under the age of 18 or for women who are pregnant or breastfeeding.
Can you smoke CBD Hash uk?
No, absolutely not. All legal CBD hashish is sold as not intended to heat or consume but in theory, Fat CBD Hash doesn't produce any high. CBD is a non-psychoactive chemical, which means it does not have the mind-altering effects that THC does. THC is the component in cannabis that causes the "high" sensation.
The Fat Hash CBD is derived from organic hemp plant matter developed to have a high CBD content and an extremely low THC content, well within legal parameters. This signifies that the product will have very little, if any, traces of THC. As a result, Fat CBD has no mind-altering properties.
Is Hemp Hash the same as cannabis resin?
Our CBD hash is made using the rich CBD trichomes from industrial hemp plants and CBD distillate, not cannabis resin. The process involved in creating CBD hash uses a variety of CBD trichomes, which are produced by the hemp plant as a natural defence mechanism and contain all of the essential naturally occurring hemp compounds such as phytocannabinoids and terpenoids. The sticky trichomes are then filtered & go through an extraction process which essentially enables the full removal of Δ9 -THC at a temperature closest to that of the natural botanical material, whilst maintaining all of the other essential and non-controlled cannabinoids and terpenes. Finally, the remaining pure product is then cold-pressed to present a product in its decarboxylated form & without the use of any binding agents. Because cannabis resin is a controlled substance, we instead use CBD distillate and organic hemp plant matter to create our CBD hash which is designed to & essentially mimics the texture, taste and appearance of conventional hash but without breaking the law.
How to Store EasyWeed Fat CBD Hash?
Proper storage is crucial to preserve your CBD hash's quality:
Keep your CBD hash in an airtight container to prevent it from drying out.

Store your CBD hash in a dry place, shielded from light.

Avoid storing it in humid areas or exposing it to light and temperature fluctuations.

The optimal storage temperature is between 15 and 20°C.

Portions of 10g are packaged in airtight cellophane to maintain freshness.
Enjoy premium CBD hashish crafted by passionate hemp growers with EasyWeed, your trusted CBD specialist.
Batch Number: LG-3.5G