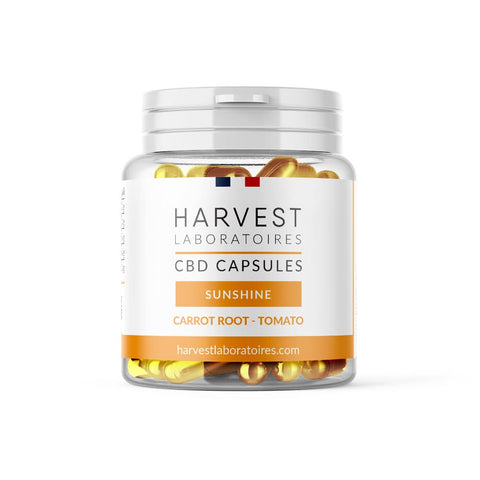 Harvest
Sunshine 750mg | CBD Capsules | Harvest
HARVEST LABORATOIRES Sunshine CBD capsules have been formulated to help improve the natural well-being of your skin by combining CBD with specifically selected natural extracts.
The HARVEST LABORATOIRES Sunshine range consists of 30 capsules containing 25mg of CBD (750mg of CBD in total) and delicate natural extracts and oils that aid in promoting healthy and beautiful skin.
Broad spectrum
Characteristics
| | |
| --- | --- |
| CBD per container | 750mg |
| CBD per gel capsule | 25mg |
| THC level | NIL |
| Number of capsules | 30 soft gel capsules per container |
| Flavour | Natural |
Harvest Laboratories' CBD Sunshine Capsules
Harvest Laboratories' CBD Sunshine Capsules are infused with carrot and tomato root extracts, which may be a natural way to potentially help improve your complexion. These capsules may help to improve the brightness and overall appearance of your skin. Harvest Laboratories' CBD Sunshine Capsules may potentially help you obtain a beautiful complexion by combining the potential therapeutic benefits of CBD and the antioxidant characteristics of these delicate extracts.
Harvest Laboratories' CBD Sunshine Capsules include the following key features:
Potential Improvement in Complexion: CBD is a natural cannabinoid with potential skin-soothing qualities. It may temporarily alleviate skin irritation and redness while improving the overall appearance of your skin.Enrichment with Carrot and Tomato Root Extracts: Carrot and tomato root extracts are included to provide essential vitamins and antioxidants, potentially nourishing your skin from within. They may promote melanin production, resulting in a more even and long-lasting tan.Superior Quality: These capsules are made with high-quality components, are rigorously tested to assure purity and potency, and meet severe safety standards.
The Benefits of Wheatgerm
Wheat germ is a skin-friendly powerhouse, containing antioxidant-rich vitamin E for environmental protection. Its intense moisturising properties potentially moisturise and fight dryness, resulting in softer skin. It has anti-ageing properties and helps to reduce fine wrinkles and retain skin elasticity. The oil's regenerative properties aid in scar healing and skin imperfection restoration. Wheat germ oil, which is high in essential fatty acids, vitamins, and minerals, nourishes the skin and promotes general health and beauty. Furthermore, its anti-inflammatory properties make it soothing for irritated or inflamed skin. For personalised skin care, a patch test and dermatological consultation are recommended.
Before using CBD products, always consult with a healthcare practitioner, especially if you have underlying illnesses or are taking drugs.
Ingredients:
Wheatgerm oil (Rich in Vitamin E), organic coconut (MCT) oil, 4.15% CBD, Carrot extract, Tomato extract, traces of CBG, CBDa, CBC, natural terpenes, flavonoids, NIL THC.
Batch Number: 927908
Expiry Date: 01/2025