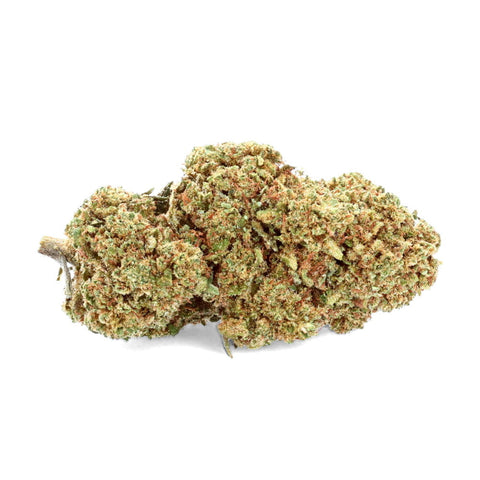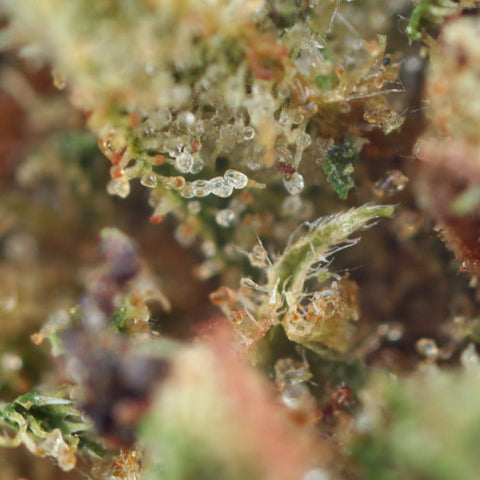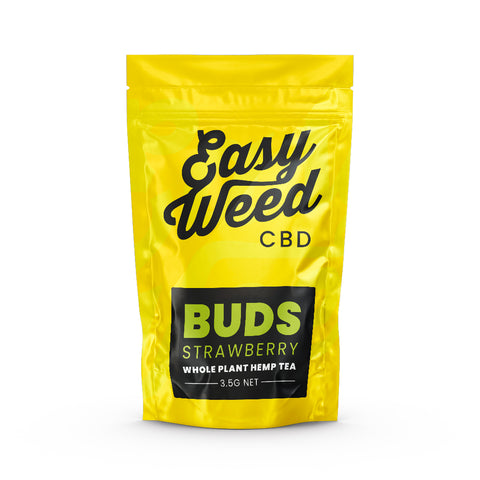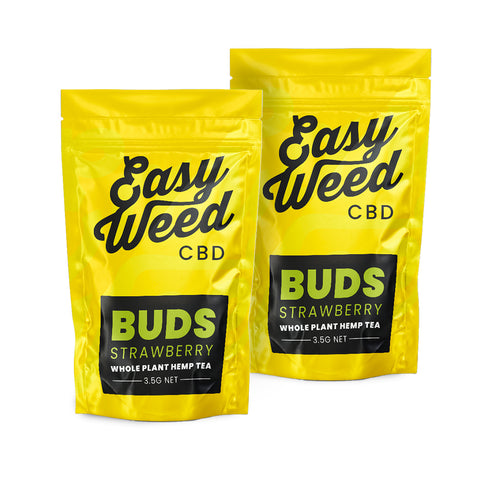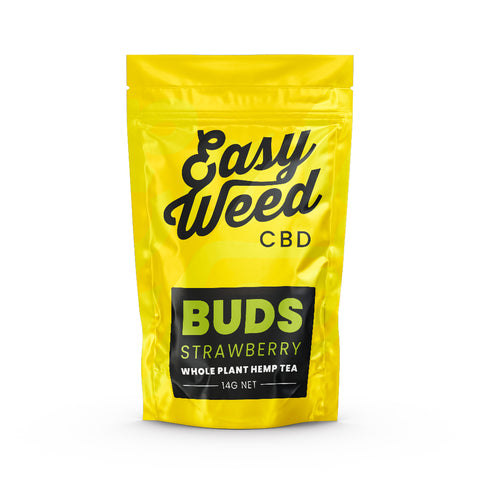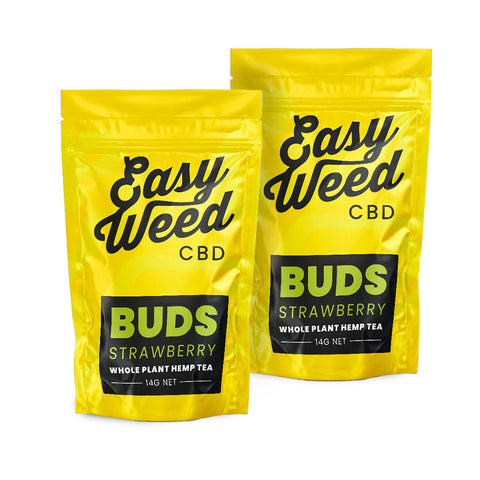 Easy Weed
Strawberry Haze | CBD Flowers | Easy Weed | Buds | 17% CBD
CBD 17%
If you're looking for a sweet hemp tea with a soothing aroma and potentially therapeutic properties, Strawberry CBD hemp tea is the right choice for you.
Characteristics
| | |
| --- | --- |
| CBD level | 17% |
| THC level | <0.2% Δ9 - THC% |
| Plant | Hybrid |
| Cannabinoids | CBDa | CBD | CBC | |
| Quantity | 3.5g to 28g (2x 14g) |
| Storage | Store in cool dry cupboard, away from direct sunlight. |
Who is Easy Weed?
We are pleased to introduce Easy Weed! Easy Weed is a French brand with an excellent budget range of CBD flowers that have been greenhouse-cultivated using organic methods.
Easy Weed's Strawberry Haze CBD
Strawberry CBD hemp tea has a distinct dense appearance and texture, making it easily recognised among the different CBD flower teas available. Furthermore, its characteristic colour with undertones of orange ensures that it is not confused with other types by enthusiasts and even beginners. Strawberry CBD hemp tea is notable for more than just its look. It also has a distinct flavour. Strawberry CBD flower tea has a pleasant strawberry flavour that customers enjoy, as an infused solution.
A CBD flower with distinctive features
Strawberry CBD flower tea has a sweet flavour, similar to strawberries, and can be fully savoured with tea.
Features of this CBD flower:
Terpene profile: Fruity and sweet

Origin: EU industrial hemp cultivated under government licence

Hemp Tea: sold for infused solution purposes only
Is Strawberry Haze strong?
No CBD flower or whole-plant hemp tea will get you 'high'. At Hemphash, all of our products meet the criteria of an exempted product, are non-psychoactive, follow UK CBD regulations and are produced from hemp flowers that are cultivated using organic methods. It is impossible to extract trace cannabinoids that may or may not be present, using an infused solution method.
The 17% CBD Strawberry CBD flower hemp tea is perfectly legal when consumed as a whole plant hemp tea and as an infused solution method, which is compliant with the regulatory standards in force in the UK and most European countries, such as Belgium, Switzerland, Luxembourg, Italy, Spain and Germany. It contains a THC-Δ9 content of less than 0.2%, confirmed by its analysis.
How fast does CBD flower work?
That depends on a few different factors, the way you choose to use the CBD flower and its strain are the main components amongst others. As stated our CBD hemp flowers are strictly sold for tea infusion purposes only.
Using tea infusions is a great soothing, flavourful and popular way to enjoy the potential benefits of CBD. This is important when choosing the right strain for you.
Does the Strawberry Haze CBD strain make you sleepy?
Debatable subject. Strawberry Haze CBD's properties can vary depending on the individual, and how much hemp tea you drink day to day. Strawberry Haze CBD may be a wonderful option for you if you're seeking a strain that may aid you in achieving a soothing state of mind. If you're looking for a strain that could potentially give you energy, you might want to try something else.
Starting with a small amount of CBD Strawberry Haze hemp tea and gradually increasing the required amount is advisable. If CBD Strawberry Haze flower tea causes you to feel sleepy or tired, consider drinking it later in the day or in a lower amount. You may also want to consider experimenting with alternative methods to consume CBD such as gummies, vapes or oils.
We'd always recommend that you talk with your doctor or healthcare professional before using CBD Strawberry Haze hemp tea, especially if you have any health conditions or are taking any medications. Your doctor can help you determine if CBD Strawberry Haze hemp tea is right for you and can advise you on the best way to use it. If you are pregnant or breastfeeding then please avoid it.
Is Strawberry Haze high in CBD?
Strawberry Haze CBD is a CBD-rich hemp flower recognised for its sweet, fruity flavour and potential soothing properties, packaged & sold in the form of whole-plant hemp tea. Easy Weed's CBD Strawberry Haze hemp tea has a high concentration of CBDa usually around 17%, as well as trace amounts of other cannabinoids such as CBG. Strawberry Haze CBD hemp tea's unique therapeutic properties, which are both soothing and mood-uplifting, are due to this combination of naturally occurring and essential cannabinoids.
In addition to its potential therapeutic properties, the 17% CBD Strawberry Haze flower is also appreciated for its soothing natural flavouring and pleasant aroma; a subtle blend of citrus and spices that provides a sense of sweetness when consumed as a hemp tea. Its sweet flavour is an acquired taste on the palette, so it may be sensible to add some sugar or natural sweetener to your infused solution hemp tea, subject to your own personal taste.
What are the Potential Effects and Uses of Strawberry Haze CBD hemp tea?
Strawberry Haze CBD is a great choice of hemp tea if you are seeking a natural way to potentially improve your overall well-being. It is a safe and effective product that might help you feel at ease and relieve some pressures of life.
Is Strawberry Haze CBD Legal in the UK?
Strawberry Haze CBD Hemp Flower Tea
This whole-plant hemp flower tea produced by Easy Weed is certified to contain <0.2% Δ9-THC & is also certified to contain no more than the legal limit of THC content under existing UK laws and regulations.
Extraction/legal information:
Cannabinoids are lipids which are not water-soluble. Extracting cannabinoids derived from hemp in hot or boiling water is not an effective extraction method and it is impossible to extract a controlled cannabinoid which may or may not be present in negligible and or trace levels, which are within legal parameters, using an infused solution method. Therefore Easy Weed Strawberry CBD hemp tea which is <0.2% Δ9-THC is quite clearly not designed for the administration of a controlled drug to a human being or animal & there is absolutely <1mg Δ9-THC per preparation. A controlled drug cannot be recovered by readily applicable means or of which constitutes a risk to health. Hemp tea is sold for infused solution purposes only.
CBD Hemp Flower Tea suggested use:
Steep one heaped teaspoon (approx 0.5g) of loose herbal Strawberry Haze CBD tea in a 200ml mug of hot water for 5-7 minutes or per the required taste. Remove, stir and relax (sugar or stevia may be added).
Whole Plant CBD Hemp Tea is not intended to prevent, cure or treat any disease or illness. Not intended for use by persons under the age of 18. Not intended to smoke or vape. If you are pregnant, breastfeeding, taking medication or under medical supervision then please consult a doctor or healthcare professional before use.
CBD Hemp Flower Tea ingredients:
whole plant hemp tea (cannabis sativa L) <0.2% THC
Batch Number: 23-SD