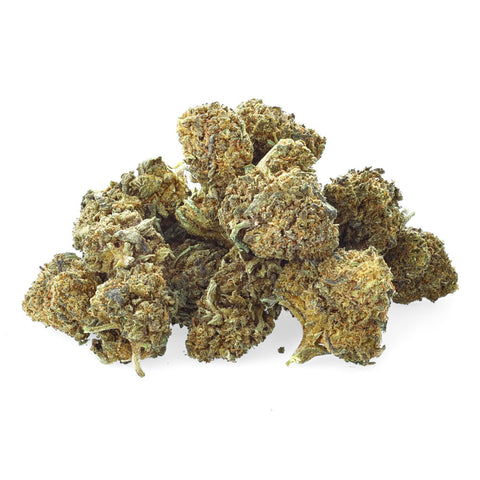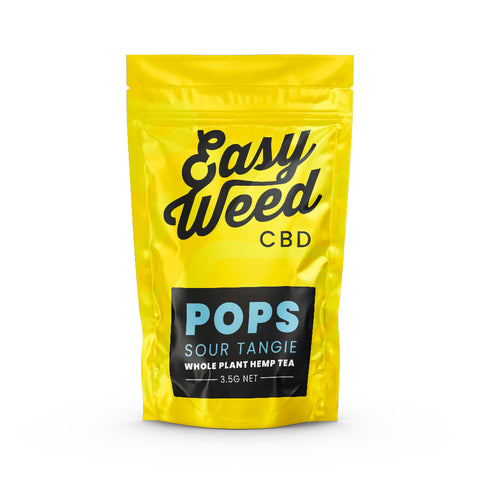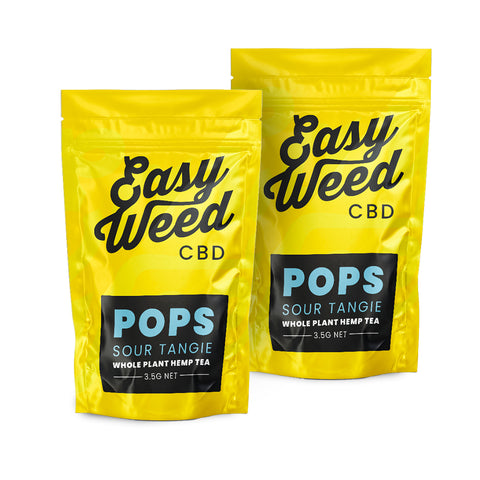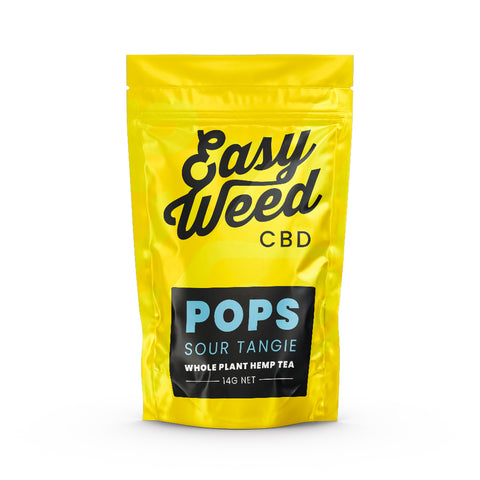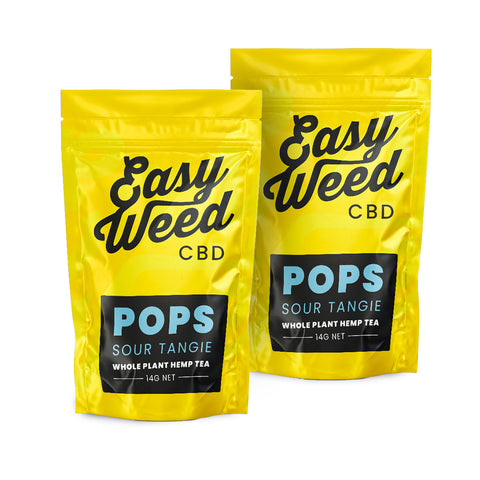 Easy Weed
Sour Tangie | CBD Flowers | Easy Weed | Pops | 14% CBD
CBD 14%
Sour Tangie hemp flower tea comes from a variety of CBD flowers close to Haze which have been cultivated in a greenhouse environment using organic methods, free from the use of chemicals or pesticides.
Characteristics
Green house

Small buds

14%
Characteristics
| | |
| --- | --- |
| CBD level | 14% |
| THC level | <0.2% Δ9 - THC% |
| Cannabinoids | CBDa | CBD | |
| Quantity | 3.5g to 28g (2x 14g) |
| Storage | Store in dry cupboard, away from direct sunlight. |
Who is Easy Weed?
Easy Weed is a French brand and excellent budget range of CBD flowers which have been greenhouse-cultivated using organic methods. Easy Weed Pops is essentially an 'end of batch' type product that represents an even greater saving in comparison to the Easy Weed Buds range. Please see below for more details.
What strain is Sour Tangie?
Sour Tangie Pops; very small CBD Hemp Buds
What exactly are Small Buds or Pops?
Small Buds or Pops are essentially very small CBD flowers, which are a very affordable option and have the same potency as normal CBD flowers or Buds, which are also available should you require this. Rich in terpenes, cannabinoids, and other possibly advantageous hemp compounds, they strike the ideal balance. These compact CBD flowers, which are less than 1 cm in size and are of Sativa hemp flower lineage and are ideal for tea infusions. Small Buds may have more stems or leaves and be less organised than CBD Buds blooms, but they still contain the same amount of CBD. However, this is reflected in the heavily reduced price and our production team has endeavoured to limit this as much as possible.
Features of this CBD flower:
Terpene profile: Sweet citrus

Origin: EU industrial hemp cultivated under government licence

Hemp Tea: sold for infused solution purposes only
Sour Tangie 14% CBD Hemp Flower, a citrus-scented flower
The Sour Tangie CBD flower variety is mainly characterised by a powerful citrus aroma, specifically mandarin. The genetic heritage of this category of high-quality CBD product also allows you to notice its few skunk-like undertones that come to embellish its taste. The Sour Tangie 14% CBD flower is both sweet and tart and delivers strong flavours. However, these are refreshing and will not fail to offer you real moments of relaxation.
Therapeutic effects of the Sour Tangie 14% CBD flower
The Sour Tangie small buds or Pops are mini CBD flowers, which you can use at any time of the day for hemp tea purposes. Whether it is in the morning or in the afternoon that you consume it, you may benefit from a slightly invigorating effect, which could help you feel more motivated and refreshed. It's not a popular choice of CBD flower to consume in the evening, due to its sativa-dominant properties or when ultimately seeking relaxing sensations.
Is sour tangie good for anxiety?
Sour Tangie CBD is a high-CBD hemp strain recognised for its potentially therapeutically energising and uplifting qualities. It is a hybrid of the Sour Diesel and Tangie strains. Sour Tangie CBD contains approximately 14% CBD and less than 0.2% THC, so it does not produce any psychoactive effects.
Some people believe that Sour Tangie CBD may help them relax and better their appetite. Sour Tangie CBD has the ability to connect to the body's endocannabinoid receptors, which can assist in regulating mood and potentially help to alleviate some symptoms which are commonly associated with anxiety, thus aiding mental well-being. However, more research is needed for these things.
How do Sour Tangie CBD Pops make you feel?
Sour Tangie CBD has no psychoactive effects but may help some people feel more calm and uplifted. As mentioned previously, this is due to CBD's ability to attach to the body's endocannabinoid receptors, which might assist with mood regulation and potentially aid wellness. More research is needed, however, to prove the efficacy of Sour Tangie CBD for these results & objectives.
It is vital to remember that the effects of Sour Tangie CBD differ, based on the individual. Some people may discover that it makes them feel more relaxed, while others may discover that it makes them feel more invigorated. Always begin with a modest amount of tea and gradually increase it until you find the optimum amount for you.
Is Sour Tangie legal in the UK?
Sour Tangie CBD Hemp Flower Tea
This whole-plant hemp flower tea produced by Easy Weed is certified to contain <0.2% Δ9-THC & is also certified to contain no more than the legal limit of THC content under existing UK laws and regulations.
Extraction/legal information:
Cannabinoids are lipids which are not water-soluble. Extracting cannabinoids derived from hemp in hot or boiling water is not an effective extraction method and it is impossible to extract a controlled cannabinoid which may or may not be present in negligible and or trace levels, which are within legal parameters, using an infused solution method. Therefore our Sour Tangie CBD hemp flower which is <0.2% Δ9-THC is quite clearly not designed for the administration of a controlled drug to a human being or animal & there is absolutely <1mg Δ9-THC per preparation. A controlled drug cannot be recovered by readily applicable means or of which constitutes a risk to health. Hemp flower is sold for infused solution purposes only.
Sour Tangie CBD Flower suggested use:
Steep one heaped teaspoon (approx 0.5g) of loose herbal Sour Tangie CBD flower in a 200ml mug of hot water for 5-7 minutes or per the required taste. Remove, stir and relax (sugar or stevia may be added).
Sour Tangie CBD Flower is not intended to prevent, cure or treat any disease or illness. Not intended for use by persons under the age of 18. Not intended to smoke or vape. If you are pregnant, breastfeeding, taking medication or under medical supervision then please consult a doctor or healthcare professional before use.
Sour Tangie CBD Flower ingredients:
whole plant hemp flower (cannabis sativa L) <0.2% THC
Batch Number: ST