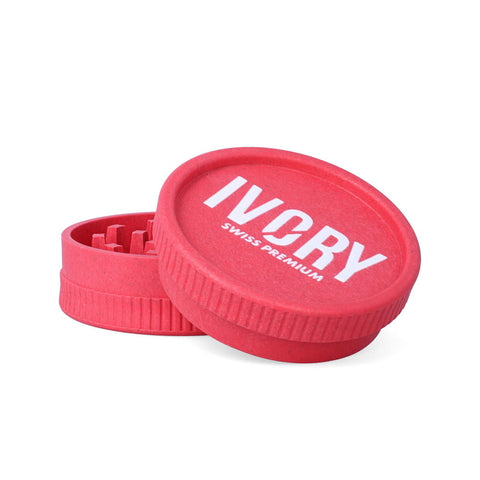 Ivory
CBD Hemp Grinder | Ivory | Recycled Hemp
The Ivory CBD hemp grinder is of the highest quality, made from recycled hemp. This beautiful grinder is extremely ergonomic and aesthetically pleasing, with delightful soft touch logos on both sides. The Ivory grinder functions superbly, thanks to its diamond-shaped teeth, which finely grinds CBD flowers into a consistent blend, perfect for your daily hemp tea needs.
The IVORY grinder
A practical and sturdy tool for hemp enthusiasts
Made from high-quality recycled hemp, this grinder, created for CBD flowers is durable and easy to clean. Its vibrant salmon pink colour makes it a stylish and elegant accessory. Furthermore, it is compact and easy to carry, allowing you to take it with you wherever you go and enjoy your CBD on the go.
The IVORY grinder is designed to make the CBD flower tea consumption experience enjoyable and efficient. By using this grinder, you can fully savour the aromas and flavours of your CBD flower tea infusions. Moreover, thanks to its ability to finely grind the plants, you can optimize the efficiency of your CBD beverage consumption.
How to use the IVORY grinder
Mixing your hemp plant with a grinder is quite simple.
First, ensure that your grinder is clean and dry. Then, place the amount of hemp plant you want to mix inside it. Close the grinder and turn it clockwise while applying slight pressure until the herb is finely ground. Open the grinder and mix your hemp plant to ensure it's evenly ground. You can now use your hemp plant to prepare your tea infusion. It's essential to note that mixing different hemp plant strains can result in different flavours, so choose your strains wisely for blending.