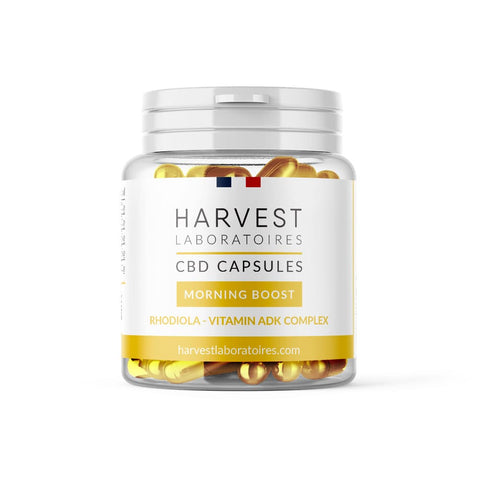 Harvest
Morning Boost 750mg | CBD Capsules | Harvest
HARVEST LABORATOIRES Morning Boost CBD capsules are specifically formulated to contribute to a healthy, Morning Boost.
The Harvest Laboratoires Morning Boost range consists of 30 capsules, containing 25mg of CBD per capsule (750mg of CBD in total) and other natural and therapeutic ingredients and vitamins that may potentially assist with managing fatigue like symptoms naturally, when combined with high quality CBD.
Broad spectrum
Characteristics
| | |
| --- | --- |
| CBD per container | 750mg |
| CBD per gel capsule | 25mg |
| Vegan friendly | No |
| THC level | NIL |
| Number of capsules | 30 soft gel capsules per container |
| Flavour | Natural |
CBD CAPSULES FOR ENERGETIC MORNINGS FROM HARVEST LABORATORIES
The CBD Morning Boost and vitamin A,D and K Capsule supplement from HARVEST LABORATOIRES is a natural well-ness product designed to effectively start your day in a good way, by boosting natural energy levels, encouraging mental clarity while waging war on fatigue and exhaustion. They become almost indispensable in winter as a daily dietary supplement and make a great accompaniment to any breakfast. As part of this regimen, these capsules will be your ally against morning fatigue, potentially giving you more energy and motivation every morning and in a sustainable manner.
Features of this product:
Gluten-free

Vitamins A, D and K.

Organic raw materials
Rhodiola Extract
Rhodiola is thought to be beneficial for morning fatigue. It's classified as an adaptogen, which means it can help the body adapt to stress and normalise physiological functions. Rhodiola is supposed to help with fatigue by altering stress hormone levels and supporting overall energy metabolism. According to certain research, rhodiola extract may improve physical and mental performance, reduce fatigue, and increase endurance. While individual reactions may vary, incorporating rhodiola into a balanced lifestyle and seeking personalised counsel from a healthcare practitioner may help manage morning fatigue.
Before using CBD products, always consult with a healthcare practitioner, especially if you have underlying illnesses or are taking drugs.
Ingredients:
Broad Spectrum CBD oil, organic coconut (MCT) oil, 4.5% CBD, Rhodiola extract, Vitamins A, D, and K, traces of CBG, CBDa, CBC, natural terpenes, flavonoids and zero THC.
Batch Number: 927867
Expiry Date: 02/2025