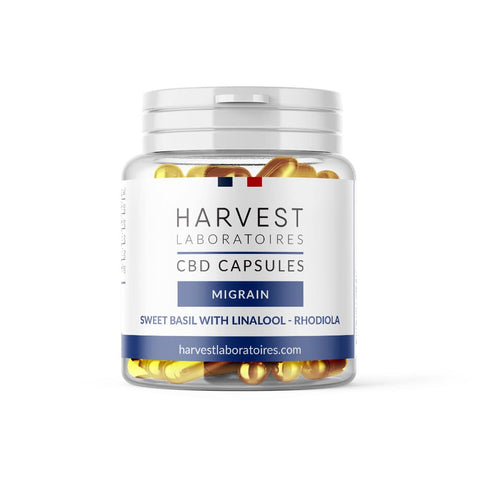 Harvest
Migraine 1500mg | CBD Capsules | Harvest
HARVEST LABORATOIRES Migraine CBD capsules are specifically formulated to be a natural and effective relief for those who suffer with symptoms commonly associated with migraines.
The Harvest Laboratoires Migraine range consists of 30 capsules, containing 50mg of CBD per capsule (1500mg of CBD in total) and other natural and therapeutic ingredients that may potentially assist with managing migraine like symptoms, when combined with high quality CBD.
Full spectrum
Characteristics
| | |
| --- | --- |
| CBD per container | 1500mg |
| CBD per gel capsule | 50mg |
| THC level | NIL |
| Number of capsules | 30 soft gel capsules per container |
| Flavour | Natural |
Harvest Laboratoires' Migraine CBD Capsules
Need help in potentially reducing your migraines and regain your well-being with HARVEST LABORATORIES CBD capsules. They are designed in France to aid in alleviating persistent headaches with no unwanted side effects.
These capsules include a potent combination of CBD and natural plant extracts such as sweet basil, linalool terpene, and the adaptogenic Rhodiola plant, which may help you aid in relieving headaches. Furthermore, each capsule contains 50mg of CBD, ensuring potent results.
Sweet Basil with Linalool
Sweet basil, which is high in a natural terpene linalool, which is also found in cannabis, is thought to provide migraine relief. Linalool's relaxing effects, combined with basil's traditional therapeutic use, suggest that it may have analgesic and anti-inflammatory properties that could help alleviate migraine symptoms when combined with CBD. With potential muscle-relaxing properties, basil may ease tension associated with migraines. While anecdotal evidence supports these claims, scientific investigation is encouraged to confirm these claims. Individuals seeking migraine relief should speak with healthcare professionals and consider a holistic strategy that involves lifestyle adjustments as well as expert medical supervision.
Rhodiola On Migraines
Rhodiola, an adaptogenic herb, is thought to offer migraine-relieving qualities. While there is limited direct scientific evidence, its adaptogenic properties may help the body adapt to discomfort and potentially minimise migraine triggers. The effect of Rhodiola on the body's stress response may aid in migraine prevention. It may reduce inflammation and oxidative stress linked with migraines due to its anti-inflammatory and antioxidant properties. Individual responses vary, therefore seeking personalised guidance from a healthcare expert is essential. Migraine management frequently entails a holistic strategy that takes into account lifestyle changes, nutritional adjustments, and competent medical assistance.
Before using CBD products, always consult with a healthcare practitioner, especially if you have underlying illnesses or are taking drugs.
Ingredients:
100% French natural ingredients: Organic Coconut Oil (MCT), Broad Spectrum Organic Hemp Oil, 9.34% CBD, Sweet Basil with Linalool, Rhodiola, traces of CBG, CBDa, natural terpenes, flavonoids, <0.2%THC.
Batch Number: 927872
Expiry Date: 02/2025