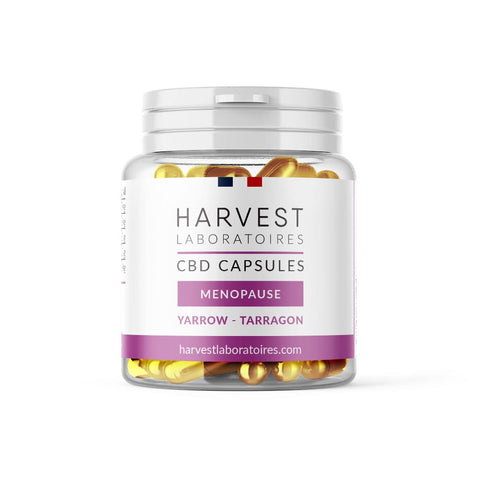 Harvest
Menopause 1500mg | CBD Capsules | Harvest
HARVEST LABORATOIRES Menopause CBD capsules are specifically formulated to aid with symptoms commonly associated with Menopause.
The Harvest Laboratoires Menopause range consists of 30 capsules, containing 50mg of CBD per capsule (1500mg of CBD in total) and other natural and therapeutic ingredients that may potentially assist with managing symptoms caused by the menopause naturally, when combined with high quality CBD.
Full spectrum
Characteristics
| | |
| --- | --- |
| CBD per container | 1500mg |
| CBD per gel capsule | 50mg |
| THC level | 0.03 |
| Number of capsules | 30 soft gel capsules per container |
| Flavour | Natural |
Harvest's Menopause CBD Capsules
This formula, made from organic ingredients, is specially formulated to aid in the promotion of natural and effective relief from symptoms commonly associated with the menopause. It's undoubtedly the supplement you've been seeking for, so don't hesitate to treat yourself to this natural and potentially powerful aid for menopause.
Features of this CBD product:
Country of Origin: France

Notes: Do not use during pregnancy or lactation.

Do not exceed the recommended amount.

Instructions: Keep out of reach of children.
Yarrow
Yarrow and tarragon are plants that may help with menopausal symptoms.
Yarrow, which is thought to have modest estrogenic characteristics, and may aid in hormone balance, and thereby easing hot flashes and mood swings. It's also linked to menstruation support, which addresses severe bleeding. Because of its anti-inflammatory characteristics, yarrow may help relieve joint pain associated with menopause.
Tarragon
Tarragon, well-known for its digestive properties, helps ease discomfort caused by hormone shifts. Furthermore, the soothing effects of tarragon may aid in the management of mood swings and anxiety throughout menopause. While some people believe that these herbs can help with menopause, individual responses can differ. Always consult a healthcare physician or herbalist before using herbs, especially if you have a medical condition or are taking medications, as herbs can interact with medications. Professional assistance guarantees that herbal remedies are safe and effective during menopause.
Before using CBD products, always consult with a healthcare practitioner, especially if you have underlying illnesses or are taking drugs.
Ingredients:
100% French natural ingredients: Organic Coconut Oil (MCT), Broad Spectrum Organic Hemp Oil, 9.26% CBD, yarrow, tarragon, traces of CBG, CBDa, natural terpenes, flavonoids, and <0.2% THC.
Batch Number: 927873
Expiry Date: 02/2025