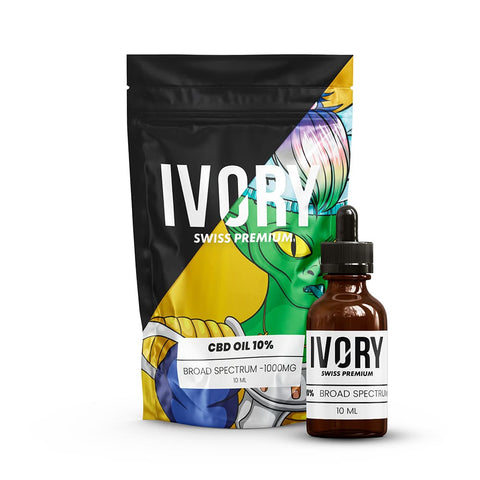 Ivory
1000mg Broad Spectrum CBD Oil | Ivory
Introducing Ivory's 1000mg broad spectrum CBD oil. This CBD oil, produced by the premium quality Swiss CBD brand, Ivory Swiss Premium, is perfectly suited to delight your taste senses. You'll enjoy a CBD product with 100% natural flavours, once it's in your mouth. Choose this oil right now to take charge of your daily life.
Characteristics
Broad spectrum

Neutral

10%
Characteristics
| | |
| --- | --- |
| CBD level | 10% |
| THC level | NIL% |
| mg/10ml | 1000 |
| Taste | Natural |
| Cannabinoids | CBD | CBG | |
| Storage | Store in cool dry cupboard, away from direct sunlight. |
IVORY'S 1000mg BROAD-SPECTRUM CBD OIL: A NATURAL & POWERFUL WELLNESS PRODUCT
Ivory's Broad-spectrum CBD oil is a product with substantial therapeutic effects derived from our cannabis plant production in Switzerland. Its excellent flavours and enticing smells give you the most pleasurable experience. You can take our oil for your well-being.
IVORY'S 1000mg BROAD-SPECTRUM CBD OIL, THE CHOICE OF QUALITY
Are you looking for a high-quality, discreet oil? If so, use CBD oil that contains a broad-spectrum distillate. This product is more beneficial than isolated CBD products, because it responds much better to your Endocannabinoid system or ECS, due to it containing hundreds of naturally occurring & beneficial cannabis compounds, but without any THC. By using a drop-by-drop tincture, you can enjoy its potentially beneficial results.
This method gives you complete control over how much oil you use, making it easier to use the product throughout the day. It's also worth noting that this oil is made from a variety of hand-trimmed and dried flowers. These CBD flowers provide a variety of potential benefits and enhance the flavour of the CBD oil. So consuming broad-spectrum oil costs you less.
Furthermore, our oils are the result of meticulous craftsmanship. In fact, we devote four years of effort and development into each of our plants. Our team of enthusiasts, along with our two agronomist engineers, are in charge of this highly important task. You then, the highly valued consumer, enjoy a product that you will never tire of, apart from when you sleep.
NEW SENSE WITH EVERY USE
Broad-spectrum CBD oil, like Ivory CBD flowers, has a high CBD concentration. It allows you to have a direct encounter with the hemp plant due to it's purity. This original product's effects allow you to have a nice time, in environments that may have been previously difficult.
In a similar way, our CBD oil has potent analgesic qualities. It also has the potential to increase your well being and may help encourage a calming state of mind to aid with the unpleasant consequences of chronic pain. You can also utilise it to aid a better, more restful night's sleep.
If you wish to potentially aid in creating a soothing mental state, you can take our CBD oil. It comes in a bottle with a dropper so you can use the "drop by drop" method. It should be noted that this bottle can be taken anywhere, whether at work or during your activities and it contains no traces of THC. Allow yourself to be charmed by our broad-spectrum CBD oil.
Batch number: 143942
Expiry Date: 1/25
Ingredients: Cannabis Sativa L, Coconut MCT, organic hemp seed oil