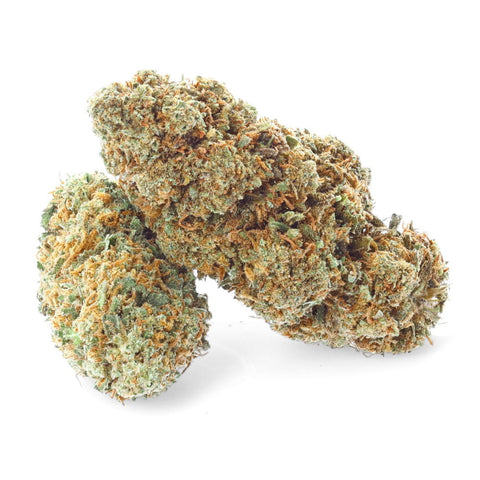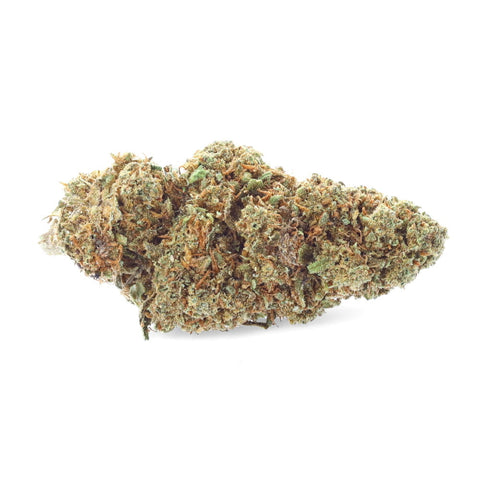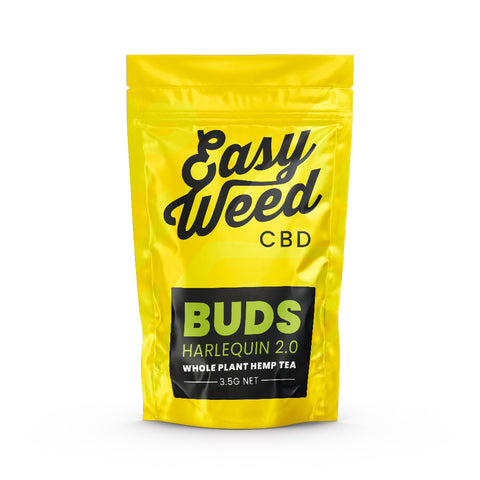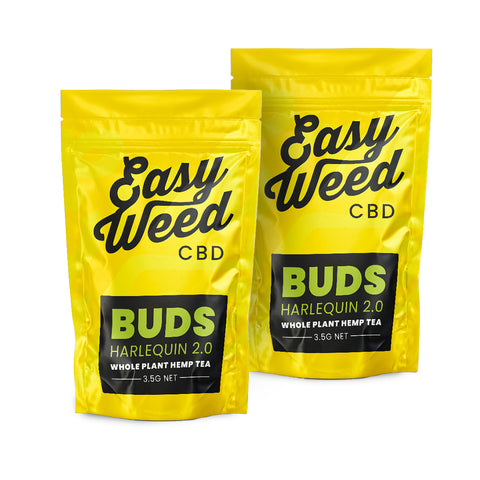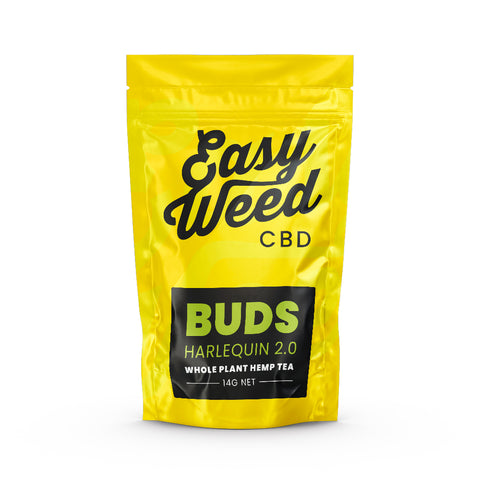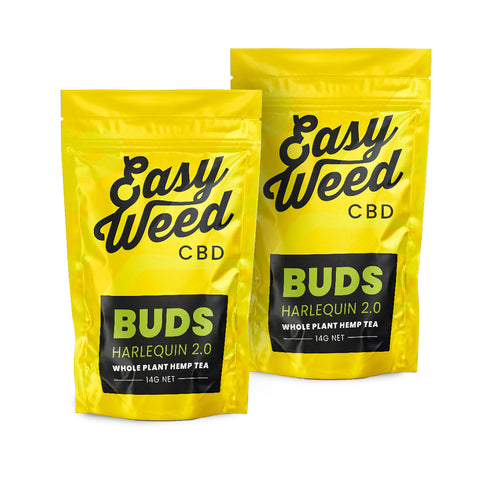 Easy Weed
Harlequin 2.0 | CBD Flowers | Easy Weed | Buds | 16% CBD
CBD 16%
Harlequin CBD flower tea by Easy Weed is a good choice to enjoy the potential therapeutic properties of cannabidiol. Harlequin CBD flower hemp tea has been cultivated in a greenhouse environment, using organic methods and is a 75/25 sativa dominant descendant cross of Columbian Gold, Napali Indica, with a Thai & Swiss landrace. These genetics and natural terpene profiles offer many possible qualities.
Characteristics
| | |
| --- | --- |
| CBD level | 16% |
| THC level | <0.2% Δ9 - THC% |
| Cannabinoids | CBDa | CBD | CBG | |
| Quantity | 3.5g to 28g (2x 14g) |
| Storage | Store in cool dry cupboard, away from direct sunlight. |
Harlequin 2.0, a CBD flower with varied aromas
Harlequin is a CBD flower tea with a distinguished terpene profile. The dominant terpenes in Harlequin are myrcene, followed by pinene and caryophyllene. Myrcene is a terpene that is known to have an herbal aroma and is often associated with relaxing effects. Whereas, Caryophyllene is known to be spicy, pineene; woody and humulene; earthy. However, the combination of these naturally occurring and essential cannabis or hemp compounds can often present an aroma with Hazelnut and citrus undertones
Features of this CBD flower:
Terpene profile: notes of pine, hazelnut, citrus and undertones of pepper sweet

Origin: EU industrial hemp cultivated under government licence

Hemp Tea: sold for infused solution purposes only
The therapeutic properties of the Harlequin 2.0 CBD strain
Harlequin 16% CBD is an ideal CBD flower tea when seeking those much-needed relaxing moments over a hot brew. Harlequin is a sativa-dominant hemp tea, so it's usually a great choice for daytime consumption, when mental clarity, creativity or general day-to-day wellness is of the utmost priority. However, this product is 100% non-psychoactive so please don't expect to get 'high',

Harlequin CBD flower contains a plethora of naturally occurring terpenes. Terpenes are found in all-natural plants, trees, fruits and the like but some are known to encourage potential relaxing effects on the body. The dominant natural terpenes in Harlequin 2.0 are Myrcene, Caryophyllene and Pinene. We would encourage you to research these natural & wonderful terpenes for yourself.
What CBD flower gets you the highest?
No CBD flower or whole-plant hemp tea will get you 'high'. At Hemphash, all of our products meet the criteria of an exempted product, are non-psychoactive, follow UK CBD regulations and are produced from hemp flowers that are cultivated using organic methods. It is impossible to extract trace controlled cannabinoids that may or may not be present, using an infused solution method. Therefore, Harlequin 2.0 CBD flower with 16% CBD content which is sold as a whole plant hemp tea is quite clearly not intended for the administration of a controlled drug to a human being or animal.
How much CBD is in Harlequin 2.0?
Our Harlequin 2.0 is a high-CBD strain of hemp that typically contains around 16% CBD. It is a cross between Colombian Gold, a Swiss landrace and Nepalese Indica.
How potent is the Harlequin 2.0 CBD flower?
A CBD flower's strength can depend on the strain and cultivation methods. Generally speaking, though, CBD flowers typically contain between 10% and 25% CBD. This indicates that CBD flowers can contain similar levels of CBD as other products such as CBD oil or CBD capsules.
While Harlequin has a high CBD content of 16%, interestingly, the strength of a CBD flower hemp tea isn't dependent on its cannabinoid profile alone. CBD is a non-psychoactive chemical compound with a number of potential wellness advantages. However, being a natural hemp product, it contains hundreds of other naturally occurring cannabis compounds such as terpenes, flavonoids, fats and lipids. All of these work together with the present CBD in a person's endocannabinoid system.
A 100% legal product hemp tea guarantee
Harlequin 2.0 CBD Hemp Flower Tea
This whole-plant hemp flower tea produced by Easy Weed is certified to contain <0.2% Δ9-THC & is also certified to contain no more than the legal limit of THC content under existing UK laws and regulations.
Extraction/legal information:
Cannabinoids are lipids which are not water-soluble. Extracting cannabinoids derived from hemp in hot or boiling water is not an effective extraction method and it is impossible to extract a controlled cannabinoid which may or may not be present in negligible and or trace levels, which are within legal parameters, using an infused solution method. Therefore our Harlequin 2.0 CBD hemp tea which is <0.2% Δ9-THC is quite clearly not designed for the administration of a controlled drug to a human being or animal & there is absolutely <1mg Δ9-THC per preparation. A controlled drug cannot be recovered by readily applicable means or of which constitutes a risk to health. Hemp tea is sold for infused solution purposes only.
Harlequin 2.0 CBD Hemp Flower Tea suggested use:
Steep one heaped teaspoon (approx 0.5g) of loose herbal Harlequin 2.0 CBD tea in a 200ml mug of hot water for 5-7 minutes or per the required taste. Remove, stir and relax (sugar or stevia may be added).
Harlequin 2.0 CBD Hemp Flower Tea is not intended to prevent, cure or treat any disease or illness. Not intended for use by persons under the age of 18. Not intended to smoke or vape. If you are pregnant, breastfeeding, taking medication or under medical supervision then please consult a doctor or healthcare professional before use.
Harlequin 2.0 CBD Hemp Flower Tea ingredients:
whole plant hemp tea (cannabis sativa L) <0.2% THC
Batch Number: H2-3.5G