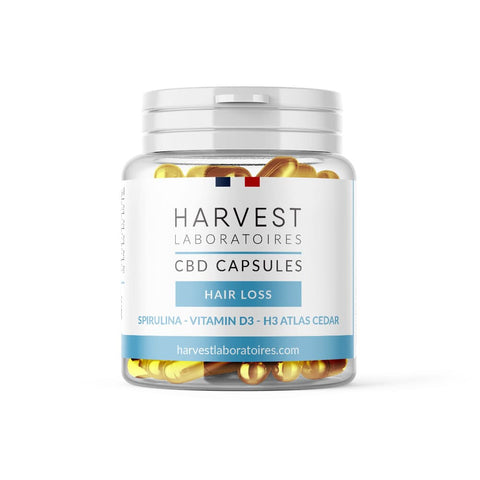 Harvest
Hair Loss 1500mg | CBD Capsules | Harvest
HARVEST LABORATOIRES Hair Loss CBD capsules are specifically formulated to aid with the promotion of hair growth.
The Harvest Laboratoires Hair loss range consists of 30 capsules, containing 50mg of CBD per capsule (1500mg of CBD in total) and other natural and therapeutic ingredients that may potentially assist with managing hair-loss, when combined with high quality CBD.
Broad spectrum
Characteristics
| | |
| --- | --- |
| CBD per container | 1500mg |
| CBD per gel capsule | 50mg |
| THC level | NIL |
| Number of capsules | 30 soft gel capsules per container |
| Flavour | Natural |
CBD Capsules for Hair Loss by HARVEST LABORATORIES
Benefits of CBD Capsules for Hair Loss - naturally promoting hair growth
100% French CBD Capsules for Your Well-Being
The CBD capsules for hair loss treatment by HARVEST LABORATORIES are a natural dietary supplement designed to aid in promoting increased hair volume and length, strengthening and stimulating hair growth, and potentially reducing hair loss effectively.
Feature of this CBD Product:
Gluten-free

Organic raw materials

Natural colours & flavours
Atlas Cedar oil
Atlas cedar is thought to aid in the promotion of hair health, particularly in addressing hair loss.
Some of the potential hair health advantages of Atlas Cedar include oil:
Enhanced Circulation: Massaging the oil into the scalp is thought to help promote blood circulation, potentially delivering more nutrients and oxygen to hair follicles, which may encourage hair growth.
DHT Reduction: It has been suggested that cedarwood oil can lower DHT levels, a hormone linked to hair loss, thus potentially reducing or preventing hair loss.
Cedarwood oil may help control sebum production, which may help avoid clogged hair follicles and hair loss.
Before using CBD products, always consult with a healthcare practitioner, especially if you have underlying illnesses or are taking drugs.
Ingredients:
Organic MCT coconut oil, organic Hemp Seed oil, 9.1% CBD, Spirulina, vitamin D3, Atlas cedar essential oil, traces of CBG, CBDa, CBC, natural terpenes, flavonoids, and zero THC.
Batch Number: 927869
Expiry Date: 02/2025