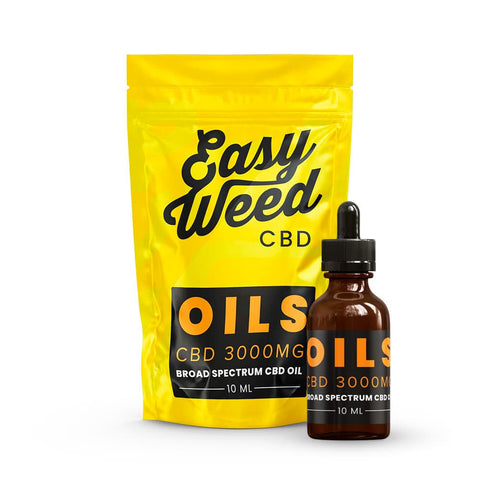 Easy Weed
3000mg Broad Spectrum CBD Oil | Easy Weed
Use Easy Weed Broad Spectrum 30% (or 3000mg) CBD Oil to benefit from its potential calming qualities. It's a natural oil with the possibility to help aid in improving your mental well-being.
Characteristics
Broad spectrum

Neutral

30%
Characteristics
| | |
| --- | --- |
| CBD level | 30% |
| THC level | NIL% |
| mg/10ml | 3000 |
| Taste | Natural |
| Cannabinoids | CBD | |
| Storage | Store in cool dry cupboard, away from direct sunlight. |
AN ADDITIVE-FREE OIL WITH A BROAD SPECTRUM OF 30% CBD
Broad Spectrum 30% CBD oil is a broad-spectrum oil made up of terpenes and cannabinoids derived from the hemp plant, with no tetrahydrocannabinol (THC) (its THC concentration is 0%). This oil also comes with a dropper, allowing you to carefully manage your consumption with a drop-by-drop intake.
30% CBD BROAD SPECTRUM OIL WITH POTENTIALLY FAST AND EFFECTIVE THERAPEUTIC PROPERTIES
Broad Spectrum 30% CBD oil can be used discreetly in a variety of situations. It includes 30% CBD, which may help provide you with quick and potentially effective and mentally calming results. With each usage, this oil may successfully provide you with some quiet and tranquillity.
30% CBD OIL WITH A WIDE SPECTRUM OF APPLICATIONS
Broad Spectrum 30% CBD oil is reasonably priced and has several potential applications, which means you can utilise it in a variety of ways. We recommend beginning with a small amount to assess the potential therapeutic properties this oil has on you.
This oil can be used in three different ways:
A few drops of this oil can be mixed into a beverage.
You can pour a small amount of this oil into your hands, apply it to your skin, and massage it regularly.
You can take it sublingually, waiting 30 seconds before swallowing.
It's worth mentioning that 10 ml of this oil contains 3000 mg of CBD, and a single drop of this oil contains around 15 milligrams of CBD.
Batch Number: 30-10ML
Expiry Date: 6/25
Ingredients: cannabis sativa L, coconut MCT