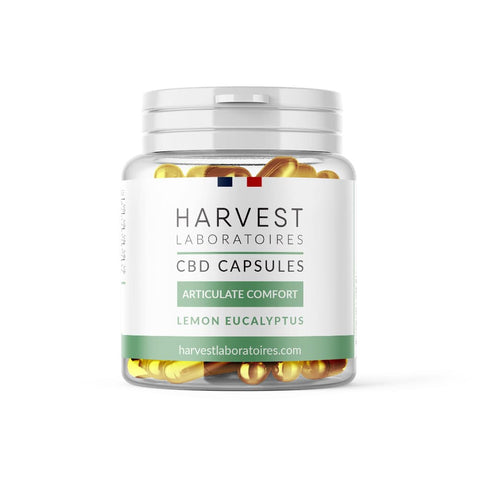 Harvest
Articulation Comfort 1500mg | CBD Capsules | Harvest
HARVEST LABORATOIRES Articulate Comfort CBD capsules are specifically formulated to aid with symptoms commonly associated with joint discomfort.
The Harvest Laboratoires Articulate range consists of 30 capsules, containing 50mg of CBD per capsule (1500mg of CBD in total) and other natural and therapeutic ingredients that may potentially assist with managing joint discomfort symptoms naturally, when combined with high quality CBD.
Full spectrum
Characteristics
| | |
| --- | --- |
| CBD per container | 1500mg |
| CBD per gel capsule | 50mg |
| THC level | 0.03% |
| Number of capsules | 30 soft gel capsules per container |
| Flavour | Natural |
Harvest Laboratoires Articulate Comfort CBD Capsules
If you're experiencing joint discomfort that may impact your quality of life, you might consider exploring Harvest Laboratoires' CBD capsules designed to promote wellness.
Features of this CBD product:
Gluten-free

Organic raw materials
Practical and potentially powerful, these CBD capsules, made in France with organic ingredients, are specially formulated to potentially aid in addressing issues like morning stiffness, reduced range of motion, and muscle cramps. They contain 50mg of a natural component, along with a combination of lemon eucalyptus, naturally occurring terpenes, and natural flavonoids, which may help promote and potentially support your mobility for a happier and more active life.
The Benefits of Lemon Eucalyptus
Lemon eucalyptus oil, extracted from the Corymbia Citriodora tree, is thought to have potential joint health advantages. Its anti-inflammatory and analgesic qualities may help to alleviate joint pain and discomfort. The cooling impact of lemon eucalyptus oil may provide a relaxing sensation to the affected joints. Additionally, it is frequently used topically in massage oils or balms to promote increased circulation and joint flexibility. While some people find comfort using lemon eucalyptus oil for joint pain, it's important to note that individual responses can differ.
Before using CBD products, always consult with a healthcare practitioner, especially if you have underlying illnesses or are taking drugs.
Ingredients:
100% French natural ingredients: Organic Coconut Oil (MCT), Broad Spectrum Organic Hemp Oil, 9.17% CBD, Lemon Eucalyptus, traces of CBG, CBDa, natural terpenes, Omega 6 & 3, flavonoids, bovine gelatine capsule, <0.2% THC
Batch Number: 927868
Expiry Date: 02/2025