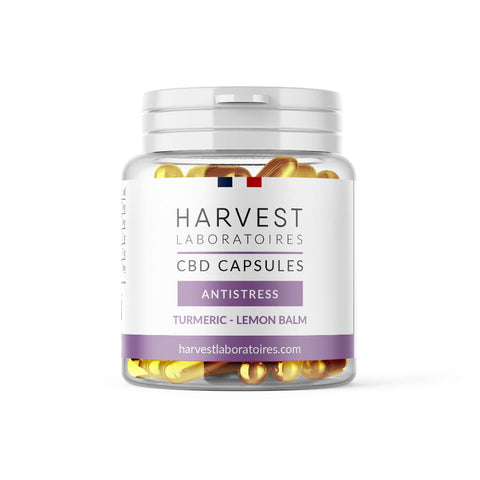 Harvest
Anti-Stress 750mg | CBD Capsules | Harvest
HARVEST LABORATOIRES ANTI-STRESS CBD capsules are specifically formulated to aid with symptoms commonly associated with stress.
The Harvest Laboratoires Anti-Stress range consists of 30 capsules, containing 25mg of CBD per capsule (750mg of CBD in total) and other natural and therapeutic ingredients that may potentially assist with managing stress-like symptoms naturally, when combined with high quality CBD.
Broad spectrum
Characteristics
| | |
| --- | --- |
| CBD per container | 750mg |
| CBD per gel capsule | 25mg |
| THC level | NIL |
| Number of capsules | 30 soft gel capsules per container |
| Flavour | Natural |
CBD STRESS RELIEF CAPSULES FROM HARVEST LABORATOIRES
Crafted to offer you an effective administration method, HARVEST LAB capsules may potentially act rapidly and efficiently thanks to 100% organic ingredients and formulas based on Coconut MCT and hemp oil, manufactured and analysed in France. They may offer additional therapeutic properties for those seeking the stress relieving and related wellness benefits of CBD.
Features of this CBD product:
Gluten-free

Organic raw materials
The Benefits of TURMERIC
Turmeric has long been valued in traditional systems such as Ayurveda and traditional Chinese medicine for its possible medicinal advantages. Curcumin is the important actor, a natural substance known for its antioxidant capabilities that can potentially battle oxidative stress while also increasing overall well-being.
Turmeric, a colourful spice derived from the Curcuma longa plant native to South Asia, particularly India, has a long history and may have therapeutic properties. Turmeric has rich cultural significance aside from its culinary usage, where it adds a warm, earthy flavour and vibrant colour to foods.
Turmeric's significance stretched far beyond the kitchen for millennia. It was used as a dye and was revered in Hindu ceremonies and festivities, emphasising its cultural significance.
The Benefits Of Lemon Balm / Melissa Extract
Lemon balm, also known as Melissa officinalis, is a well-known herb for its possible therapeutic advantages and contributions to overall well-being:
Relaxation and Tranquilly: Lemon balm is popular among individuals seeking a sense of serenity and well-being due to its ability to promote relaxation and emotional equilibrium. It is often used to make relaxing herbal teas and infusions that promote holistic wellness.
Lemon Balm is also a sought-after culinary herb due to its mild citrus aroma, which adds a lovely touch to a range of dishes and beverages, making meals enjoyable while contributing to well-being.
Lemon balm has roots in the Mediterranean region and a history entrenched in Greek and Roman culture, emphasising its long-standing value as a well-being-enhancing herb.
Lemon balm has been revered for generations in traditional European and Middle Eastern medicine for its ability to support well-being, providing a natural approach to improved health and energy.
Aromatic Charm: The herb's fragrant leaves make it renowned for its pleasant scent, and it is occasionally used to produce a relaxing environment in perfumes and fragrances, potentially enhancing emotional well-being.
Ingredients:
100% French natural ingredients: Organic Coconut Oil (MCT), Broad Spectrum Organic Hemp Oil, 9.26% CBD, Turmeric Root Extract, Melissa Extract, traces of CBG, CBDa, natural terpenes, flavonoids... and zero THC.
Batch Number: 927871
Expiry Date: 02/25