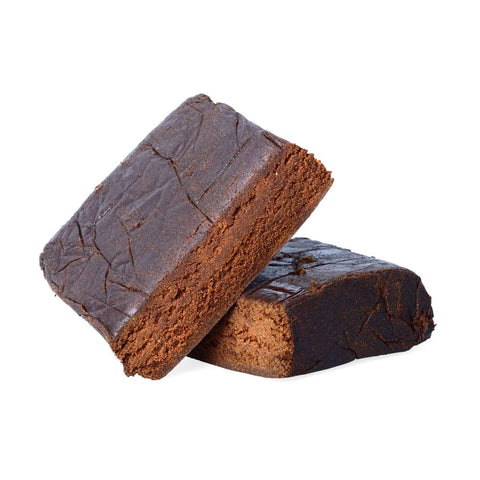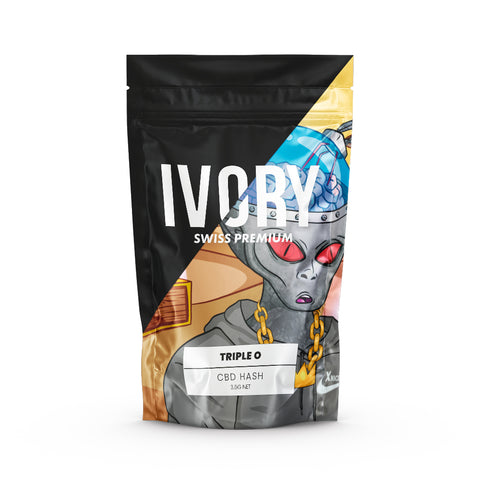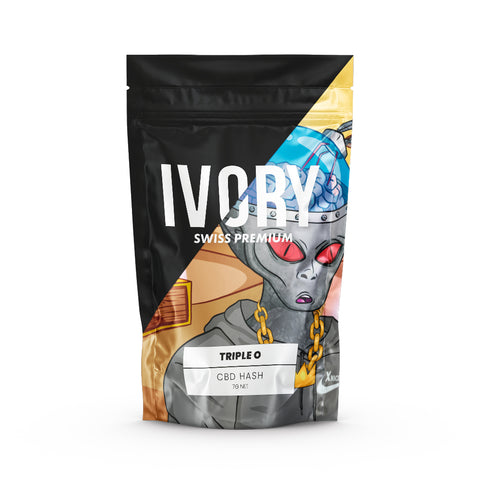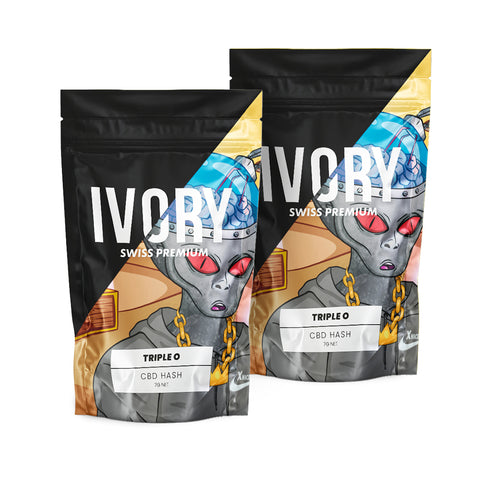 Ivory
Triple 0 | CBD Hash | Ivory | 24% CBD
CBD 24%
Triple 0 CBD Hash is one of the cornerstones of CBD hash reimagined by IVORY. With a certified CBD content of 24% and a strong, spicy aroma, Triple 0 CBD is a beautiful souvenir that will impress your friends.
Discover it today on HempHash.co.uk, the UK CBD Specialist!
Characteristics
24%
Characteristics
| | |
| --- | --- |
| CBD level | 24% |
| THC level | <0.2% Δ9 -THC% |
| Cannabinoids | CBD | CBDa | CBG | |
| Quantity | 3.5g to 14g (2x 7g) |
| Storage | Store in cool dry cupboard, away from direct sunlight. |
Who is Ivory?
Ivory is a Swiss brand who offers an excellent range of high-quality premium CBD hash products which have been produced using organic methods.
Triple 0, the cornerstone of IVORY's CBD hash
Advantages of Triple 0 CBD hash Triple 0: 100% natural, high-quality CBD hash
A different way to experience the aromatic properties of CBD in its most concentrated form, but made 100% naturally and without added terpenes: Triple 0 CBD hash is a traditional hash with high CBD concentrations. Its colour resembles dark chocolate with slight olive-green reflections. This hash has naturally intoxicating aromas!
During the experience of Triple 0, you will also discover spicy notes accompanied by very mild floral scent. With each encounter, a plethora of sensational aromas envelop you, and you can appreciate them for a few moments. Whether it's in the morning or in the evening, you can expect this hash to be a real treat for your olfactory senses. Fresh aromas, exceptional scents, enchanting fragrances... That's what awaits you with Triple 0 CBD hash, the latest gem from IVORY. A unique, natural hash with a certified CBD content of 24%.
Features of this CBD Hash:
Full spectrum cannabinoids
HempHash UK exclusive
French Brand
Nil THC - not available through readily applicable means
<1mg THC per finished packaged product
No component part of the product contains >1mg THC
Not designed for the administration of a controlled drug
3rd party Lab tested
Non-GMO
Non Pesticide
EU compliant & UK exempt processed industrial hemp
Sold for souvenir/novelty/educational purposes only
Not intended to heat or consumepur
Is CBD Hash strong?
The concentration of CBD in the hash doesn't necessarily determine the strength of the hash, as commonly perceived. While CBD concentration in hash can affect its strength and often ranges from 10% to 40%, strength is commonly associated with the combination of CBD with other non-controlled & naturally occurring component parts of the hemp plant such as terpenes and flavonoids. This is why full-spectrum CBD products are favoured over CBD isolate products.
Is CBD Hash legal in the UK?
Our products are certified to contain <0.2% Δ9-THC & they are also certified to contain no more than the legal limit of THC content under existing UK laws and regulations. Our CBD hash is not produced from Cannabis Resin, which is controlled in the UK, but instead, it is created from lawfully and organically produced industrial hemp plant matter and CBD distillate, and is essentially designed to mimic conventional hash while remaining completely lawful.
It's important to remain conscious that while in Europe or the EU, CBD hash is widely available for smoking and vaping purposes and in general it is produced with that very purpose in mind, however, in the UK all CBD hash must be retailed as not intended to heat or consume and is strictly sold for novelty, souvenir or educational purposes only, to lawfully meet the criteria of an exempted product. By shopping with us, you agree not to smoke, vape or consume your CBD hash. At the same time, it is generally accepted that CBD products with less than 0.2% Δ9-THC are safe, non-psychoactive and lawful in the UK.
What is Triple 0 CBD Hash good for?
All our CBD hash products are sold as not intended to heat or consume but in theory, Triple 0 CBD Hash doesn't produce any high. CBD is a non-psychoactive chemical, which means it does not have the mind-altering effects that THC does. THC is the component in cannabis that causes the "high" sensation.
Triple 0 Hash CBD is derived from organic hemp plant matter developed to have a high CBD content and an extremely low THC content, well within legal parameters. This signifies that the product will have very little, if any, traces of THC. As a result, Triple 0 CBD Hash has no mind-altering properties.
How to Store Ivory Triple 0 CBD Hash?
Proper storage is crucial to preserve your CBD hash's quality:
Keep your CBD hash in an airtight container to prevent it from drying out.
Store your CBD hash in a dry place, shielded from light.
Avoid storing it in humid areas or exposing it to light and temperature fluctuations.
The optimal storage temperature is between 15 and 20°C.
Portions of 10g are packaged in airtight cellophane to maintain freshness.
Enjoy premium CBD hashish crafted by passionate hemp growers with EasyWeed, your trusted CBD specialist.
Batch Number: 23-TO