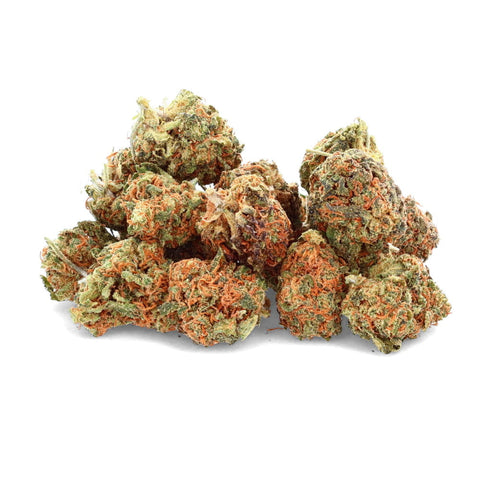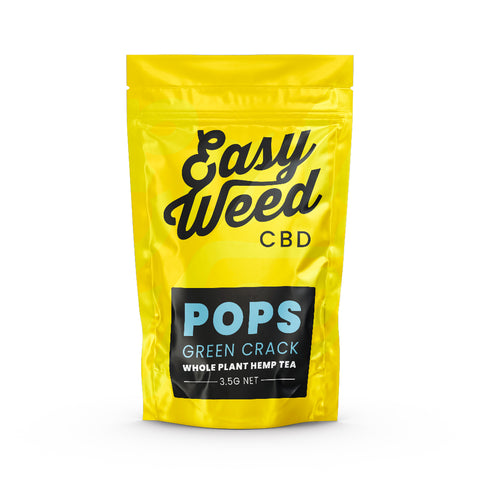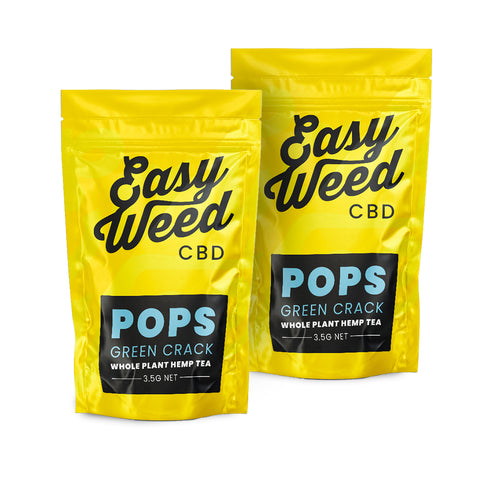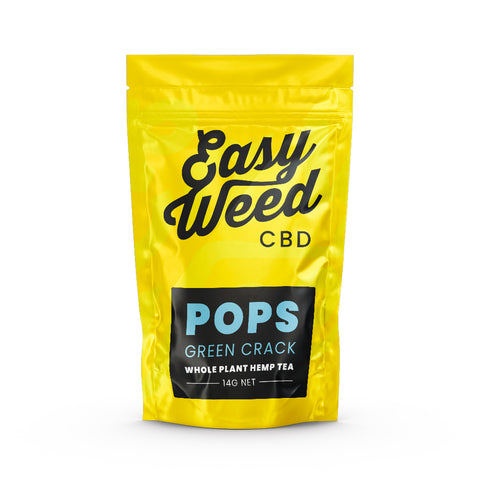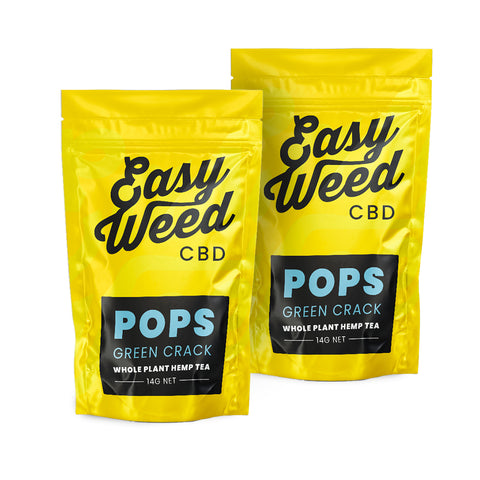 Easy Weed
Green Crack | CBD Flowers | Easy Weed | Pops | 14% CBD
CBD 14%
Green Crack is the result of a cross between the SKUNK and AFGHAN varieties which are both "primary" strains; they are therefore part of the most popular mythical CBD varieties. This association gives this CBD flower a 60% Sativa dominance.
Characteristics
Small buds

Green house

14%
Characteristics
| | |
| --- | --- |
| CBD level | 14% |
| THC level | <0.2% Δ9 - THC% |
| Plant | Sativa |
| Cannabinoids | CBDa | CBD | CBC | CBG | |
| Quantity | 3.5g to 28g (2x 14g) |
| Storage | Store in cool dry cupboard, away from direct sunlight. |
Who is Easy Weed?
Easy Weed is a French brand and excellent budget range of CBD flowers which have been greenhouse-cultivated using organic methods. Easy Weed Pops is essentially an 'end of batch' type product that represents an even greater saving in comparison to the Easy Weed Buds range.
Green Crack CBD Pops; very small CBD Hemp Buds
What exactly are Small Buds or Pops?
Small Buds or Pops are essentially very small CBD flowers, which are a very affordable option and have the same potency as normal CBD flowers or Buds, which are also available should you require this. Rich in terpenes, cannabinoids, and other possibly advantageous hemp compounds, they strike the ideal balance. These compact CBD flowers, which are less than 1 cm in size and are of Sativa hemp flower lineage and are ideal for tea infusions. Small Buds may have more stems or leaves and be less organised than CBD Buds blooms, but they still contain the same amount of CBD. However, this is reflected in the heavily reduced price and our production team has endeavoured to limit this as much as possible.
Features of this CBD flower:
Terpene profile: Sweet and spicy

Hemp Tea: sold for infused solution purposes only
What is Green Crack CBD?
Green Crack hemp flower tea comes from a variety of CBD flowers close to Haze which have been cultivated in a greenhouse environment using organic methods, free from the use of chemicals or pesticides.
This flower is recommended for beginners as well as experienced CBD tea consumers, ideal for those who want to potentially relax or boost creativity. Green Crack CBD, is the ideal choice for a general wellness boost.

Easy Weed's Green Crack 14% CBD is one of the CBD flower hemp teas that has therapeutic properties. It may help you recharge your mental batteries and naturally. This CBD flower, which is a dominant hybrid sativa is known for its many trichomes, which themselves contain non-negligible traces of THC and is 100% non-psychoactive.
The terpene profile of the Green Crack is particularly interesting, which distinguishes it from other categories of CBD flowers. Containing a very low trace amount of myrcene (naturally occurring terpenes known for their sedative properties), the small flowers of Green Crack 14% CBD would make this hemp tea a better option for daytime drinking.

As with all Easy Weed hemp tea products such as Sour Tangie 18% CBD, those of Green Crack 14% CBD are non-psychoactive. This will be ideal during the day and may help users to stay focused & potentially boost their creativity. Furthermore, Green Crack might aid your appetite.
Due to its potential boost effect, different from that caused by THC, it is possible to drink tea from this flower during the day. However, please note that Green Crack 14% CBD hemp tea is not a medicine.
How does the green crack strain effects make you feel?
Just like Blue Dream 13% CBD, Green Crack is known for its potentially therapeutic properties. This sativa dominant hybrid CBD flower variety is appropriate for most users because of its moderate cannabidiol concentration*.
Green Crack 14% CBD flower hemp tea is a Sativa dominant cultivar, yet has some Indica characteristics. Known to be a great tea option for drinking throughout the day, when seeking to maintain mental clarity and non-psychotropic, uplifting effects.
Green Crack CBD may help some people feel more calm and uplifted. As mentioned previously, this is due to CBD's ability to attach to the body's endocannabinoid receptors, which might assist with mood regulation.
100% cultivated using organic methods
The Green Crack flower comes from a biological culture, benefiting from a better environment. It benefits from the benefits of its environment and is protected from any form of external aggression. All this allows you to obtain a high-quality CBD flower, very rich in CBD and terpenes.
How much CBD does Green Crack have?
Our Green Crack is a high-CBD strain of hemp that typically contains around 14% CBD.
Is Green Crack high in CBD?
A CBD flower's potency can depend on the strain and cultivation skills. Generally, though, CBD flowers typically contain between 10% and 25% CBD. This indicates that CBD flowers can have more CBD than other CBD products like CBD oil or CBD capsules.
While Green Crack has a high CBD content of 14%, interestingly, the potency of a CBD flower hemp tea isn't dependent on its cannabinoid profile alone. CBD is a non-psychoactive chemical compound with a number of potential advantages. However, being a natural hemp product, it contains hundreds of other naturally occurring cannabis compounds such as terpenes, flavonoids, fats and lipids. All of which work together with the CBD in a person's endocannabinoid system, which can offer many wellness advantages and therefore also can affect the potency of the product
Is the Green Crack strain psychedelic?
No CBD flower or whole-plant hemp tea will get you 'high'. At Hemphash, all of our products meet the criteria of an exempted product, are non-psychoactive, follow UK CBD regulations and are produced from hemp flowers that are cultivated using organic methods. It is impossible to extract trace controlled cannabinoids that may or may not be present, using an infused solution method. Therefore, Green Crack CBD flower with 14% CBD content which is sold as a whole plant hemp tea is quite clearly not intended for the administration of a controlled drug to a human being or animal.
Is Green Crack CBD tea Legal in the UK?
Green Crack CBD Hemp Flower Tea
This whole-plant hemp flower tea produced by Easy Weed is certified to contain <0.2% Δ9-THC & is also certified to contain no more than the legal limit of THC content under existing UK laws and regulations.
Extraction/legal information:
Cannabinoids are lipids which are not water-soluble. Extracting cannabinoids derived from hemp in hot or boiling water is not an effective extraction method and it is impossible to extract a controlled cannabinoid which may or may not be present in negligible and or trace levels, which are within legal parameters, using an infused solution method. Therefore our Easy Weed hemp tea which is <0.2% Δ9-THC is quite clearly not designed for the administration of a controlled drug to a human being or animal & there is absolutely <1mg Δ9-THC per preparation. A controlled drug cannot be recovered by readily applicable means or of which constitutes a risk to health. Hemp tea is sold for infused solution purposes only.
CBD Hemp Flower Tea suggested use:
Steep one heaped teaspoon (approx 0.5g) of loose herbal hemp tea in a 200ml mug of hot water for 5-7 minutes or per the required taste. Remove, stir and relax (sugar or stevia may be added).
*Whole Plant CBD Hemp Tea is not intended to prevent, cure or treat any disease or illness. Not intended for use by persons under the age of 18. Not intended to smoke or vape. If you are pregnant, breastfeeding, taking medication or under medical supervision then please consult a doctor or healthcare professional before use.
CBD Hemp Flower Tea ingredients:
whole plant hemp tea (cannabis sativa L) <0.2% THC
Batch Number: GC