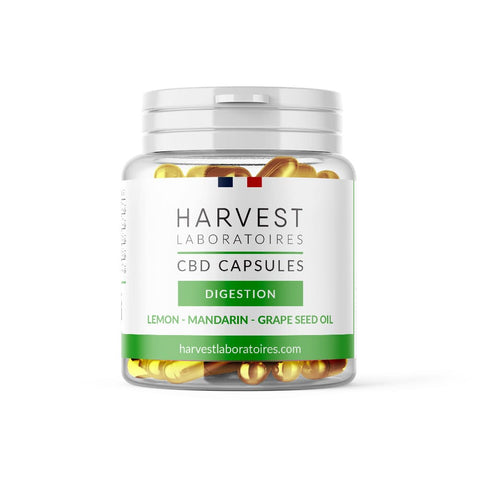 Harvest
Digestion 750mg | CBD Capsules | Harvest
HARVEST LABORATOIRES' Digestion CBD capsules are specifically formulated to aid with the promotion of natural Digestion.
The Harvest Laboratoires' Digestion range consists of 30 capsules, containing 25mg of CBD per capsule (750mg of CBD in total) and other natural and therapeutic ingredients that may potentially assist with promoting digestion naturally, when combined with high quality CBD.
Broad spectrum
Characteristics
| | |
| --- | --- |
| CBD per container | 750mg |
| CBD per gel capsule | 25mg |
| THC level | NIL |
| Number of capsules | 30 soft gel capsules per container |
| Flavour | Natural |
The benefits of HARVEST LAB CBD Digestion capsules
Are you often bloated and looking for a solution for your digestive problems? Don't worry, Harvest Laboratoire Cannabinoid digestion capsules are here for you! The HARVEST LAB Digestion CBD products are a natural and wellness food supplement designed to potentially help promote your intestinal transit and healthy digestion on a daily basis and in a sustainable way.
Features of this CBD product:
Gluten free

Organic raw materials
100% French CBD capsule dedicated to your well-being
Made to offer you the most effective administration method, HARVEST LAB capsules may act quickly and very effectively thanks to 100% organic ingredients and MCT oil-based formulas made and analysed in France. They are an effective way for enjoying the potential benefits of CBD oil in capsule form safely. HARVEST LAB cannabinoid capsules are ideal for all people who want to regain healthy digestion in a sustainable way.
Mandarin Extract
Mandarin extract is believed to aid the promotion of digestive well-being.
Digestive Aid: Mandarin extract, like other citrus fruits, is high in dietary fibre. Fibre is necessary for gut health. It has the potential to help control bowel motions and prevent constipation.
Antioxidant Properties: Vitamin C and flavonoids are antioxidants found in mandarin extract. These antioxidants may be advantageous to the digestive tract by potentially combating oxidative damage and inflammation.
Inflammation Reduction: The anti-inflammatory qualities of mandarin extract with CBD may help to promote the reduction of inflammation in the digestive tract. This could potentially assist in alleviating gastrointestinal discomfort.
While mandarin extract offers various possible digestive advantages, individual responses may differ.
Before using CBD products, always consult with a healthcare practitioner, especially if you have underlying illnesses or are taking drugs.
Ingredients:
Organic grape seed oil, organic coconut (MCT) oil, 4.53% CBD, traces of CBG, CBDa, CBC, mandarin extract, omega 6 and 9, natural terpenes, flavonoids, Zero THC!
Batch Number: 927874
Expiry Date: 02/2025