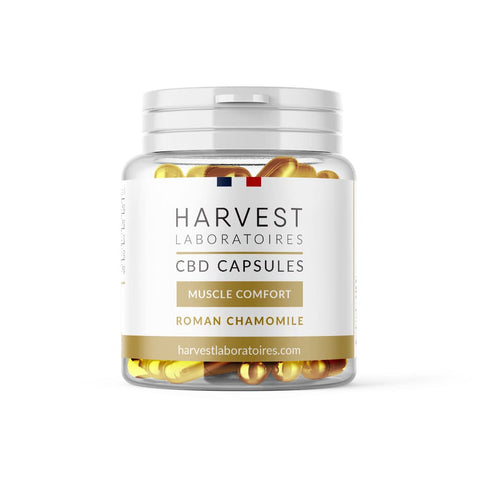 Harvest
Muscle Comfort 1500mg | CBD Capsules | Harvest
HARVEST LABORATOIRES Muscle Comfort CBD capsules are specifically formulated to aid in promoting Muscle Comfort to tired or strained muscles.
The Harvest Laboratoires Muscle Comfort range consists of 30 capsules, containing 50mg of CBD per capsule (1500mg of CBD in total) and other natural and therapeutic ingredients that may potentially assist with managing muscle soreness symptoms naturally, when combined with high quality CBD.
Full spectrum
£24.46
£34.95
you save £10.49
Characteristics
| | |
| --- | --- |
| CBD per container | 1500mg |
| CBD per gel capsule | 50mg |
| THC level | 0.04 |
| Number of capsules | 30 soft gel capsules per container |
| Flavour | Natural |
Harvest Laboratoires Muscle Comfort CBD Capsules
Muscle Comfort CBD Capsules from HARVEST LABORATOIRES are a specialised composition developed to help alleviate symptoms often linked with muscle soreness. These capsules combine the therapeutic effects of CBD with natural substances to potentially reduce stress-related symptoms organically, with 50mg of CBD per capsule and a total of 1500mg per container. Each gluten-free capsule contains natural plantFrench components, including Roman Chamomile, which is known for its anti-inflammatory and soothing properties on muscles. Some consider these capsules to be a natural aid for muscular relaxation, and they may add to overall well-being and muscle ease.
Features of this CBD product:
Organic raw materials

Natural colours & flavours
The Benefits of Roman Chamomile
Some feel that Roman Chamomile, produced from the Anthemis nobilis plant, has potential benefits for muscle relaxation. This essential plant has anti-inflammatory and calming properties, which may help to relieve muscle tension and discomfort. Roman Chamomile, when diluted and administered topically, can be used in massage to promote relaxation and relieve muscle tightness. Furthermore, its peaceful perfume is frequently used in aromatherapy practises to produce a serene environment, potentially aiding in overall relaxation. While individual responses vary, some consider Roman Chamomile to be a natural option for muscle ease. As with any essential oil, a patch test and consultation with a healthcare practitioner are recommended, especially for persons with sensitivities or specific health issues.
Before using CBD products, always consult with a healthcare practitioner, especially if you have underlying illnesses or are taking drugs.
Ingredients:
100% French natural ingredients: Organic Coconut Oil (MCT), Broad Spectrum Organic Hemp Oil, 9.07% CBD, Roman Chamomile, traces of CBG, CBDa, natural terpenes, flavonoids, <0.2% THC.
Batch Number: 927870
Expiry Date: 02/2025